A belated look at February revenue - my best month yet!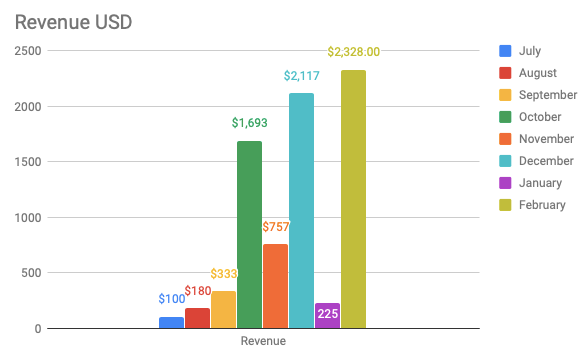 So in February I actually had the best month of revenue so far for No CS Degree: $2,328! I'm glad to have reached a new peak in my quest to get to $10,000 by November. My previous best in December was $2,117. So now I'm 23% of the way there (sort of). Obviously I need to repeat and improve on this every month though.
Things that worked
Bootcamp sponsorship
I had sponsorship from Flatiron School this month for two articles with people who had learned to code at their bootcamps. Sorry, can't really reveal how much I got paid for these! You can check out the first of the articles, the first interview with a Data Scientist, here. I've got another interview coming out soon with a Flatiron School graduate who learned remotely so that's obviously good content to share what with the Corona virus.
New newsletter sponsors
I had two inbound requests from people wanting to sponsor my blog and jobs board newsletters so that was fantastic and I'd like to thank Joe and Dave for supporting my websites. One came from someone who had listened to my Indiehackers podcast I believe who has a Python course they are promoting. The other came from LinkedIn, (which really isn't as bad as hipster devs make it out to be, haha) who has a CV review service called Resume Raiders. I increased my prices a little bit as my newsletter numbers had risen recently.
Affiliate income
I made about $430 in affiliate income which was great as this was passive and I didn't have to do anything for it. This seems to vary a lot so I wouldn't ever rely on passive income - it's more of a nice to have.
Conclusion
I think I'll seek out some more bootcamps to sponsor my articles. I'd also like to partner up with employers who have taken on developers without degrees as well. Of course, I should also seek out some more affiliate partners as well.