High Signal covers stories TechCrunch ignores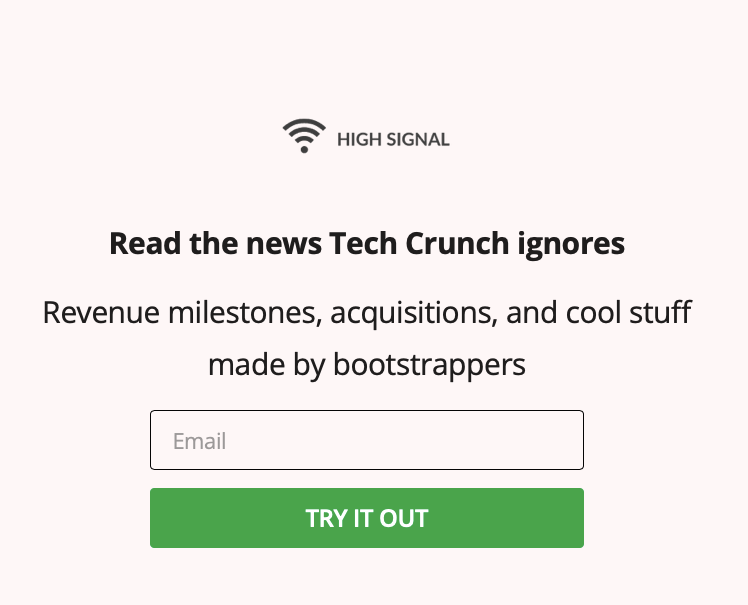 I started a newsletter for indie startup news recently called High Signal. Subscribers get 5 news stories, 1 podcast recommendation and 1 funny tweet sent to them every Friday. You can read it here
A trigger for it was actually Veed getting news coverage from TechCrunch after raising $35m from Sequoia. Of course Veed were doing amazing as a bootstrapped startup already. They had got to around $7m ARR without any funding which is incredible! But of course the Big Tech press outlets only care if you have venture capital funding. Lots of publications essentially just publish press releases when a company raises some cash.
An alternative to TechCrunch
So I thought it would be fun to publish something different! High Signal sends you news on bootstrapped startups and indie hackers that are a lot easier to relate to because they aren't based on crazy valuations and actually have paying customers already.
Most of the news items I share are around revenue milestones from founders sharing on Twitter. I also include industry updates people should know about like pricing increases for popular products. Instead of just recommend a podcast I provide notes on a specific episode, that way you know what to listen to this week. I also add something funny I've seen on Twitter - think Dan Toomey from Morning Brew.
I'm very pleased to see a lot of big name founders from the bootstrapper community join. I don't want to share names without their permission but I've got a lot of impressive entrepreneurs on the list which is exciting!
Testimonials
Here's what some of them say about the newsletter:
"High Signal keeps me up to date with the maker world without having to check Twitter 100 times a day" Corey Haines, SavvyCal
"I have an internal rule to keep only 5 newsletters - no more. With High Signal, there's no hesitation" CH Daniel, Simple Ink
"The newsletter keeps me up to date and relevant with the IHer landscape. The curation is a big time-saver!" Lachlan Kirkwood, Building with Bubble
"I don't read many newsletters, but I read High Signal every week." Phil, 4dayweek
"It fills a void in my inbox I didn't realise existed." Kieran, No Code MBA
If all that sounds good, you can read the newsletter first or sign up directly here.