How not to do a giveaway as a startup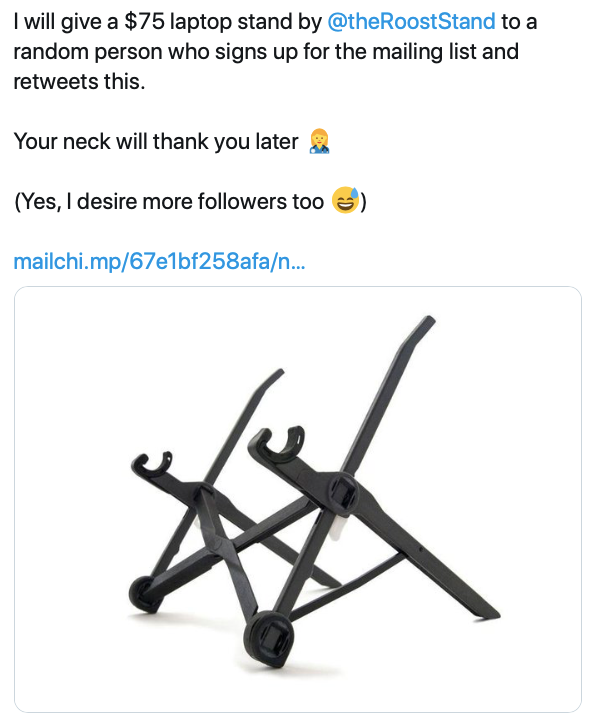 At the end of 2019 Pieter Levels did a really successful Macbook Pro giveaway on Twitter. He got 9,000 followers simply by asking people to follow him and share a tweet with the contest details. I also it unfold in real time and it was nuts how many people share it and watching the count go up!
I decided to do a giveaway for a Roost laptop stand. Not nearly as expensive as a laptop so obviously not so high risk! I wasn't expecting anything like 9,000 followers (clue: you really need to have a lot of followers in the first place for giveaways to work!)
Anyway, I announced my giveaway at the start of March. In total I got 18 retweets so it was disappointing to say the least, haha! I think part of the problem was as well I was asking people to retweet AND click on my mailing list link to qualify for the contest. So I was asking someone to leave twitter, fill out an email sign-up form, confirm it etc and that was probably asking too much of people for the purposes of a giveaway.
I livestreamed the announcement of the winner this morning and took a name out of a hat. Gabrial Chuan, an indie hacker from Singapore, won the contest and he was pleased about that! He's a student so it's nice to help him out with something that is a bit of a luxury for most young people.
I emailed Roost to see if they would supply a stand for the contest but they never got back to me. Anyway, some quick lessons for indiehackers considering a giveaway:
Make it something very cheap or even free (like credits for your SAAS)
Don't do it unless you have a very high profile already in the tens of thousands of followers
Make the criteria super-simple (like sharing a tweet)
Anyway, don't think I'll be doing a giveaway for a while 😂