November open startup report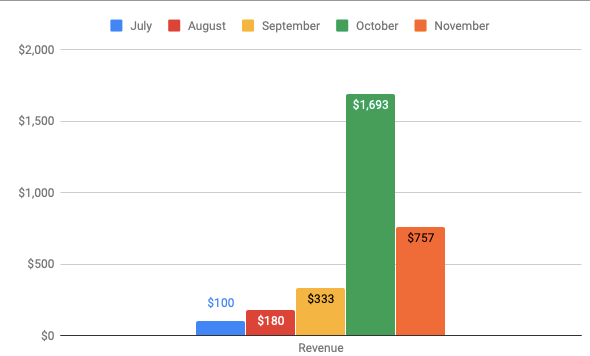 I report my income openly for a couple of reasons. Firstly, it's a great way of staying accountable. If you share your figures each month it does give an added impetus to get results! It's good for transparency as it's often easy for people in tech to waffle on about how they are "crushing it!" without giving any proof. It lets you see how exactly a business is performing. For instance, I actually made $1,000 less in November than in October which I explain below.
It's also a good way to encourage entrepreneurship and just show people what running a business involves and how you can make money online beyond all the images of laptops on beaches and get rick quick people on Instagram. I wouldn't be doing this if it wasn't for Pieter Levels being open about how much money he makes. So here's my report for November!
Revenue: $757
This was an odd month for me revenue-wise! I had a real high in October with about $1,700 in sales. But this spike was down to the fact that I had two newsletters sponsored until the end of the year. So the money wasn't recurring and I wasn't going to be making money from the newsletters in November or December.
My biggest win this month was getting sponsorship money from a bootcamp in San Francisco! We are going to do a sponsored interview with one of their alumni, a woman who used to be a dancer, had never written any code until the bootcamp and is now a Software Engineer. I'm looking forward to interviewing her and putting the article out there ASAP. This was a really big win because it was a nice chunk of money from a company and now I can be more confident in calls and refer to this when I ask other companies for money.
A listing on my job board was bought by one of my past interviewees, Alexey Chernikov, for a remote position, ideally in Berlin. That was cool as it was definitely a result of widening my network and interviewing him led to more money in my pocket. What is also very cool is that he reports people have been applying from my job board so that feels great that something I made is connected developers seeking jobs and companies that need software engineers!
Another big development was increasing the number of affiliate sales. I interview Clément Mihailescu a few months ago who got a Google job after six months of learning to code. He has made a product called Algo Expert to help developers prepare for interviews. You can save 15% when you use the promo code "NOCS".  
When I initially interviewed him I wanted him to sponsor a newsletter and to get $75 from that. I was a bit distrustful or wary of taking an affiliate deal where I take on more risk. (If no-one clicked on the link and bought it then I would make nothing instead of banking a safe $75.). However, my fears were misplaced and I made $98.84 in November from Algo Expert. (In October I also made $40.81 from Algo Expert). The good thing about this is it has taught me to be less sceptical.  
Wes Bos just released a new Javascript for Beginners course which I'm excited about! His 30 days of Javascript started a bit too far in for me so it's great to have a complete beginners course. I got $53.93 from Wes in November since I added the affiliate link to the interview I did with him in which he talks about the course. So a priority is going to be to seek out other premium, high quality affiliate links for developers that are of a lot of use to them and which can provide me with a bit of passive income as well.
Mailing list subscribers: 17% increase
Getting more developers to join my mailing list isn't a vanity metric - it means I grow my audience and can charge more for newsletter adverts in the future, which has been the majority of my income since I started in July. I thought the newsletters hadn't been growing so much. It can be hard when you see other makers talk about making huge advances in mailing list numbers!
When I actually had a proper look last weekend, my blog newsletter grew by 17% and the jobs board mailing list by 18%! So these are really solid numbers! The blog newsletter has 1,047 developers now and the jobs newsletter has 1,555. It was really great to get over 1,000 coders for the blog newsletter in particular as this means I can really start to get more deals with companies. I had had a few people say that they could talk about working together when both my mailing lists are in their 1,000s and now they are!
Conclusion
It's inevitable that some months the revenue is going to go down so I'm not that bothered. I was originally aiming for at least $500 each month until the year of the year so November's $757 was well above that! I'm writing this in December and my month has started really nicely so far with a slew of affiliate income and some really promising phone calls with bootcamps about sponsoring more articles.
Onwards and upwards!
You can sign up for more updates by email here