Open startups report for No CS Degree - April 2020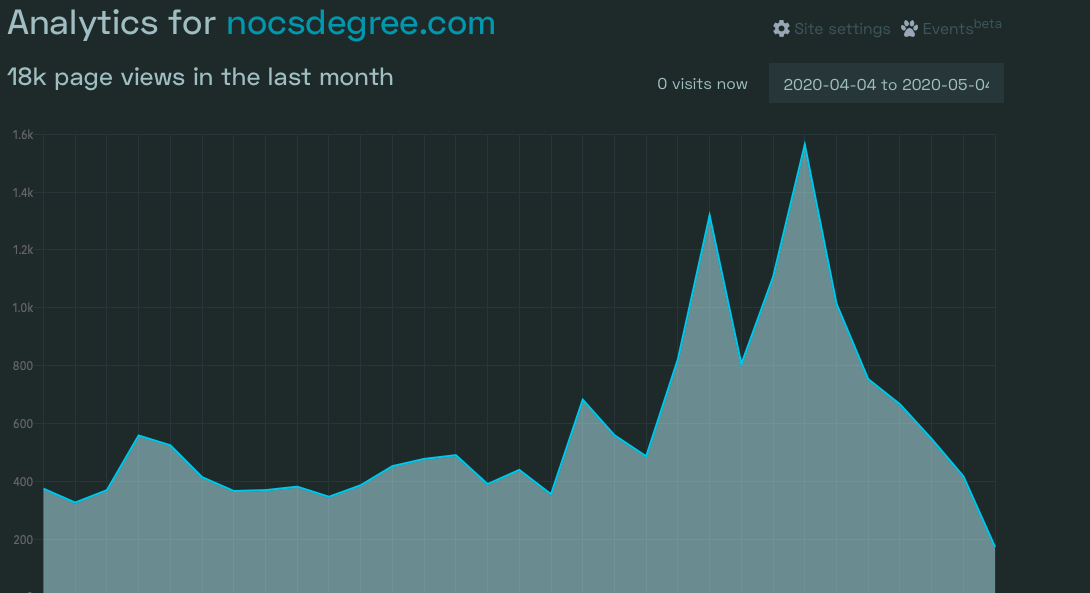 Revenue: $1,465 (up 46.5% from March)
Costs: $165
Profits $1,300
I had a really tough start to the month and had only made $45 two weeks in. Still, I knuckled down and kept on going. They say in investment brochures that "past performance is no indication of future performance". It's easy to see this play out.
You see a stock price or house prices keeping going up. You want in on the action so you buy. Then there is a crash and you've lost lots of money. On the flip side, if you've had a bad two weeks it doesn't mean you are certain to have a bad time for the rest of the month. So I just made myself keep on going. When you're going through hell, keep going.
I made a couple of deals with coding bootcamps for sponsored content and suddenly I was back in business! I then sold a couple of listings on my bootcamp discovery site, Bootcamp Index, and that along with some newsletter ads and affiliate income brought me up to $1,465. I also agreed in principle to more content with other bootcamps so I have over $2,000 in the pipeline.
Launch of Bootcamp Index
I finally launched my site for finding the best coding coding bootcamps as in my opinion, the existing options are severely lacking. I really should have had this out in November or December. But hey! Live and learn. I definitely won't procrastinate so long next time. I'm launching a new interview site this week actually based around remote working.
This drew attention from bootcamps and I made $198 from it directly. It also put me back on the radar of bootcamps and I was able to pitch several of them sponsored articles in No CS Degree. So it's definitely a good thing to be working on. I've started to make a revamped site in Django which gives me more control over the design of the site.
Mailing list growth
I saw big improvements in this area which was great. A fellow developer Derek Sams began folding up a jobs newsletter he runs for bootcamp grads and started to point his subscribers over to my sites so that was a big help.
Blog: 1,534 subscribers (up from 1,364 in March) so up by about 12.4%!
Job board: 2,180 subscribers (up from 1687) so up by 13.6%!
I do think I need to move to Email Octopus though as I was hit with some big bills from Mailchimp at the end of the month as my lists are getting bigger.
Website traffic growth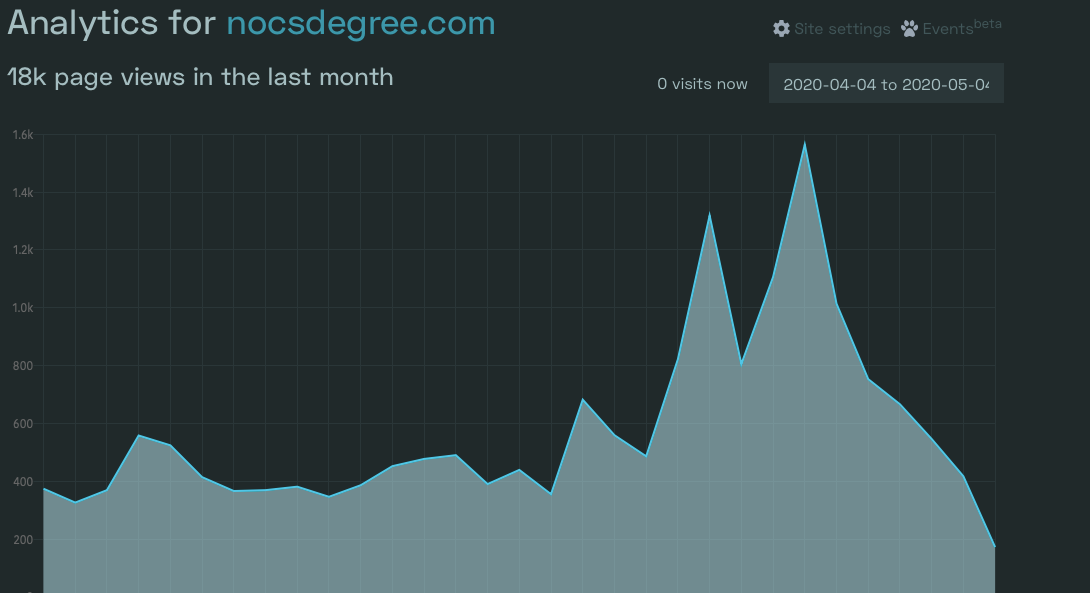 My page views rose from 11,000 in March to 18,000 in April!
I had a big spike in traffic from Google one day. Other than that, I'm not sure why exactly but I got a big rise in traffic in April! I did make some fixes to No CS Degree by using a free trial of Moz.com to improve the SEO. I had a lot of broken links so maybe fixing those helped? My biggest sources of traffic remain Google, Facebook, Twitter, Youtube and Indiehackers.
Social media growth
I read a really great Twitter thread about growing your followers. One of the best takeaways was to reply to tweets.
Favouriting tweets is the normal, low-effort thing people do. Or you can retweet but that doesn't get many followers. So the key is to reply with some interesting comment.
This approach saw every Twitter metric go way up!
Followers: up by 325 (8% increase)
Tweets: up 90% to 156
Impressions: up 69% to 179k
Profile visits: up 170%
Mentions up: 107%
I have also been making a spreadsheet for a while with quotes from my No CS Degree interviews. I am trying to save money so I don't have an automated system. I just go through my spreadsheet a few times a day and randomly tweet one of them.
Quote + link is a great tactic.
More interviews
I appeared on a couple of interviews this month. I had a text interview with Indiehackers, my third time being featured on that site!
I was featured in the Growth Lessons newsletter by Kieran.
And in the Zero to Marketing newsletter.
Conclusion
After a stressful first two weeks in April I really want to move towards more of a subscription model for No CS Degree. So my aim this month is to have an ebook in place, more interviews lined up and to start a premium tier for the newsletter. I'll definitely still be looking for money from bootcamps but it would be awesome to have say $1,000 MRR as a base that I could rely on each month and then add extra revenue from sponsorships on top of that.
Other than that, I'm pleased with growing revenue 46% from March, the increases in social media attention, more website traffic and growing the lists. It's all on the up!