Founders to follow on Bluesky Social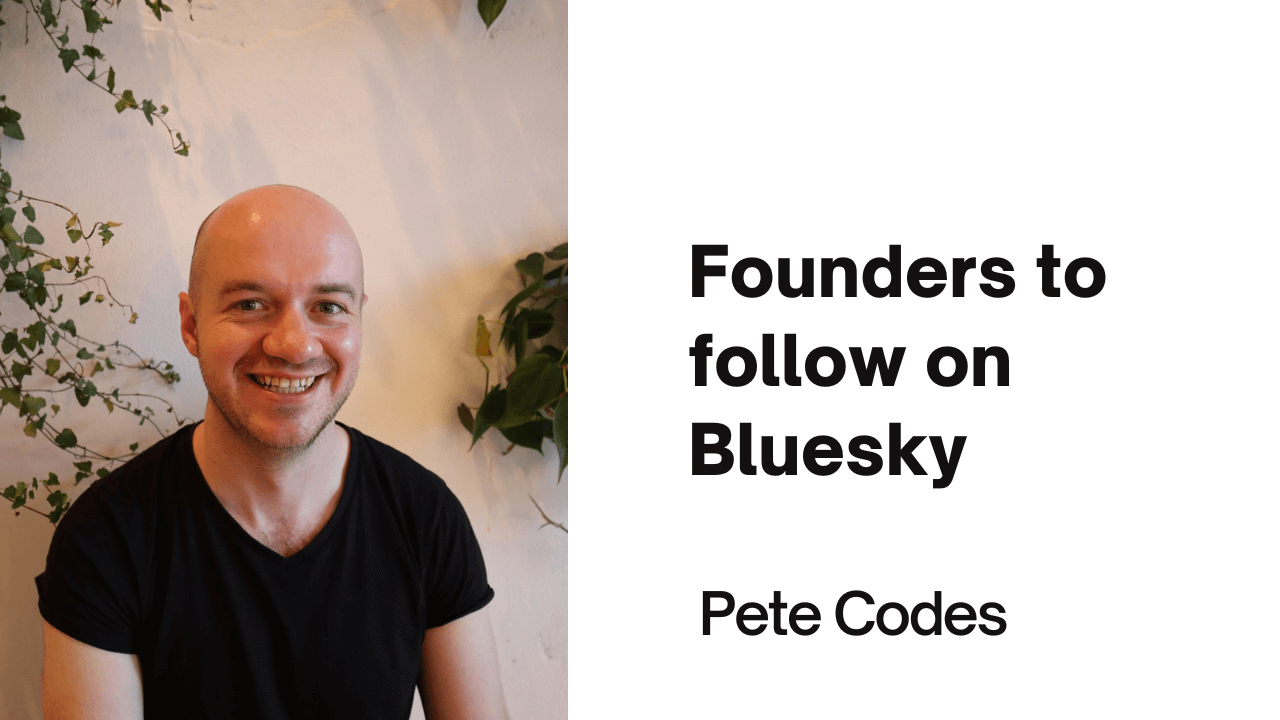 There's a new social media alternative to Twitter in town - Bluesky Social! Although I've loved Twitter for years and I'm a Twitter ghost writer it's getting frustrating and a lot of people are exploring new places to hang out online. Twitter also abruptly signed me out yesterday and wouldn't let me back in (sigh).
Bluesky looks and feels a lot like Twitter with a few important differences
it's decentralised so the aim is to reduce centralized control  
you need an invite code to use it just now
you can't used it on android
you can't DM people like you can on Twitter
there are no lists or hashtags
They have added a block function, I believe, after complaints.
Here's some founders I'd recommend following:
Pete Codes - @petecodes.bsky.social
I'm a founder, developer and ghost writer
Founder of podcasting SaaS Transistor FM
Francesco Di Lorenzo - @frankdilo.com
Founder of Typefully and Mailbrew
Rosie Sherry - @rosiesherry.bksy.social
Founder of RosieLand and ex IndieHackers community
Mubs - mubashariqbal.bsky.social
Prolific founder on Product Hunt
Arvid Kahl - @arvidkahl.bsky.social
Runs the Bootstrapped Founder blog/podcast
MarieNg - @threehourcoffee.bsky.social
Founder of Llama Life productivity app
Dan Rowden - @danrowden.bsky.social
Founder of lots of Twitter-based apps in the past and now working at Lemon Squeezy
Veni - @venikunche.bsky.social
Founder of Diversify Tech job board
Differences between Mastodon and Bluesky?
Mastodon makes you choose a server which added a layer of complexity. As far as I can tell, Bluesky doesn't do that and every is just on bskyb.social. You can, however, change your username to your domain name. So I could change my handle to @petecodes.io. and verify it in my domain register, Namecheap.
When Elon Musk took over Twitter and people started looking for alternatives, there were already a large amount of people on Mastadon who had developed their own culture and had very strong feelings about how people should behave on there.
So when lots of Twitter moved to Mastadon there was a backlash from a lot of old timer Mastadon users who resented new people arriving and changing the feel of the app. With Bluesky, the app hasn't been around for that long so as far as I can tell there isn't that baked in 'this is how we do things around here' culture. It seems like it's a clean page for everyone.
How do I get an invite for Bluesky?
Bluesky users can only get an invite code after two weeks. I got my invite from Mike, a member of my Indie Friends community for founders. I'll be prioritizing my ghost writing clients and Indie Friends members when I get my invite codes 😎
p.s. if you need a Ghost writer for Bluesky, email me for more info on pete@nocsdegree.com