30 bootstrapped founders on Twitter to follow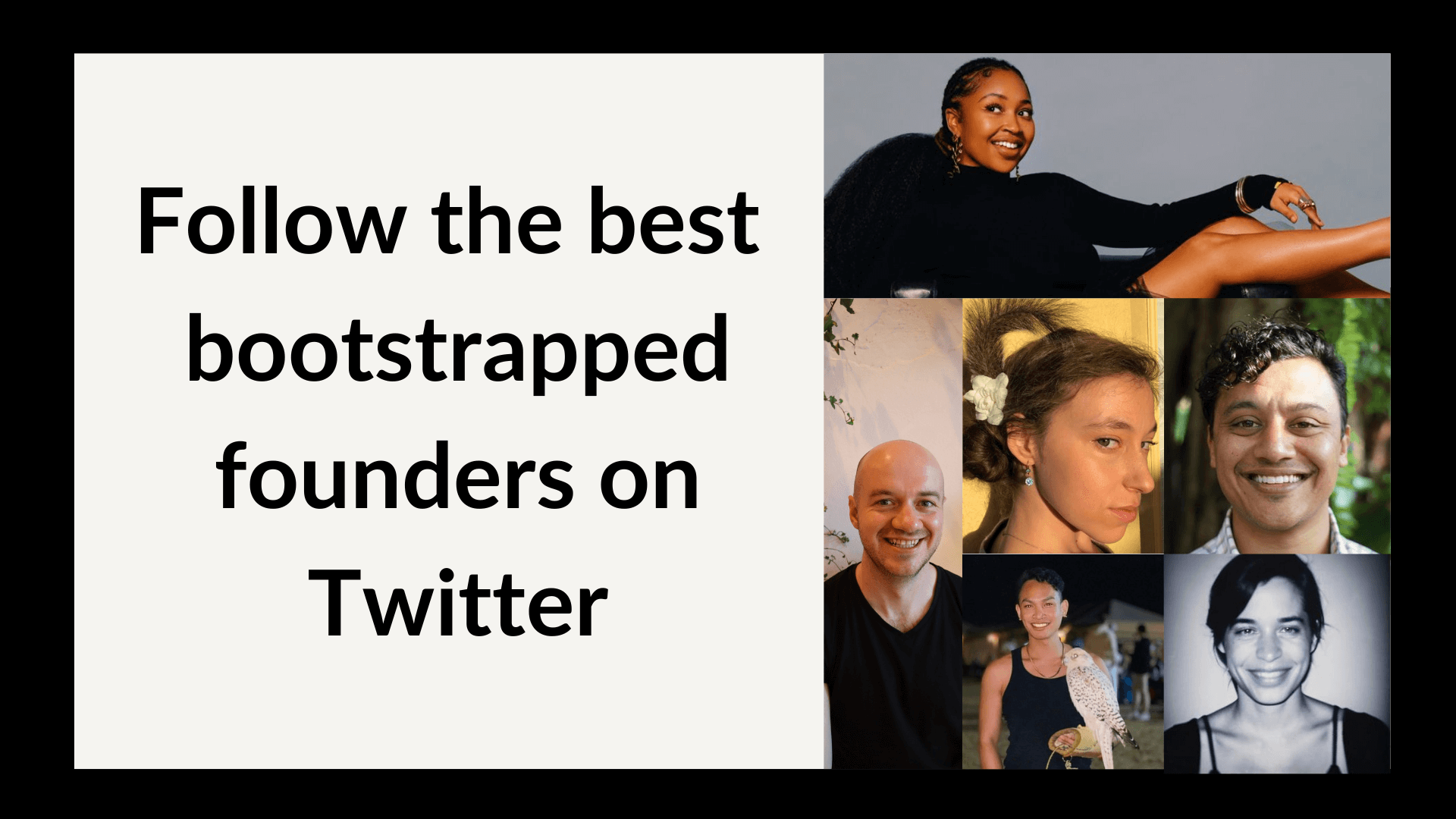 Here are the 30 best bootstrapped founders on Twitter to follow. If you want more followers on Twitter, find the best people to follow. One of the first things I do as a Twitter ghost writer is make sure my clients are following and engaging with the top founders on Twitter.
Nathan Barry
Nathan is the founder of ConvertKit, an email marketing software tool popular with lots of bloggers and content creators. Even Arnie uses ConvertKit! Nathan made enough from selling e-books on writing content to fund ConvertKit in the early days. It now makes tens of millions of dollars in revenue per year.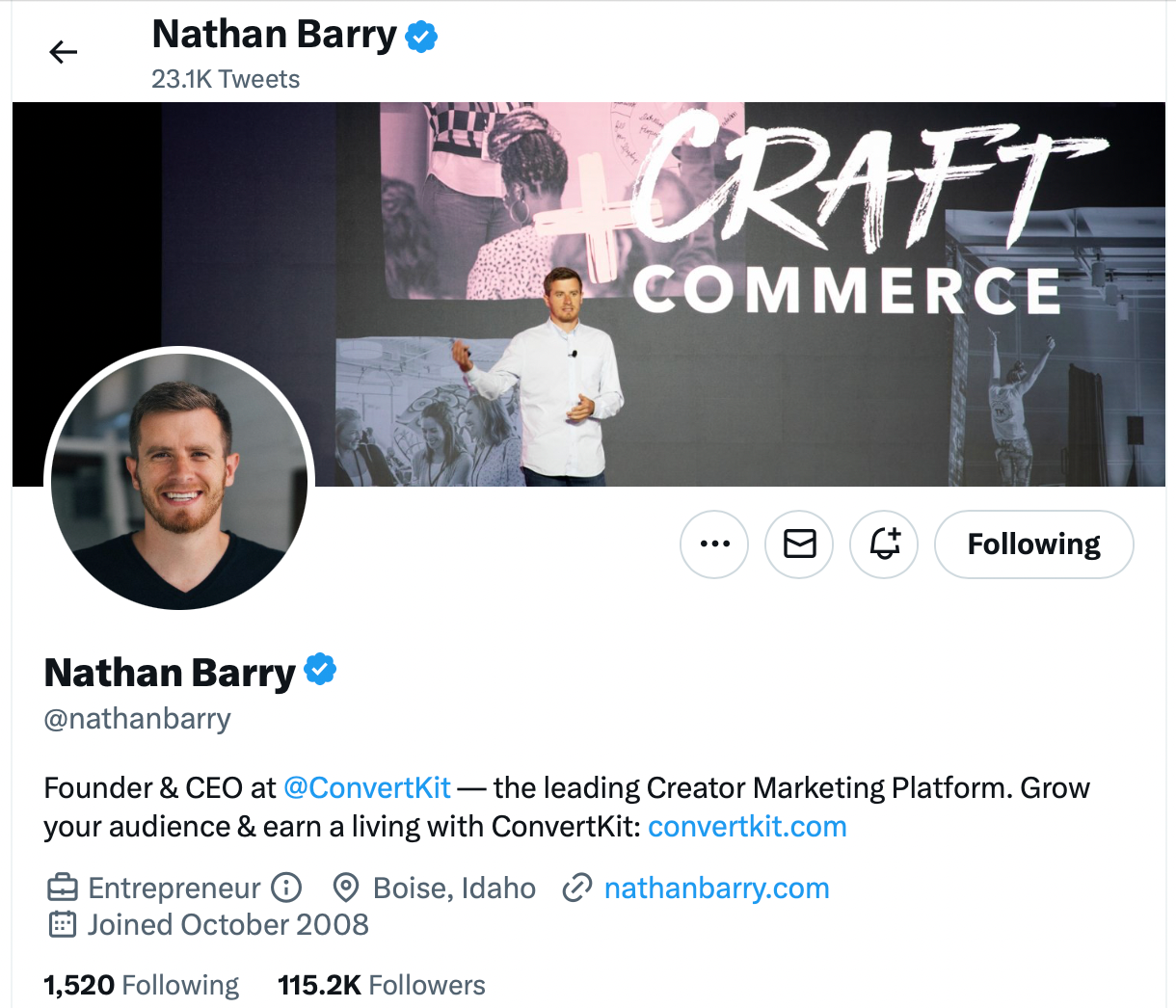 Danny Postma
A Dutch founder living in South East Asia, Danny came to indie hacker fame when he sold his Headlime AI business for a cool $1m. Since then he has experimented with lots of businesses before hitting gold again with his HeadshotPro app for generating profile pictures with AI. Currently, Danny has several AI photo apps aimed at different niches.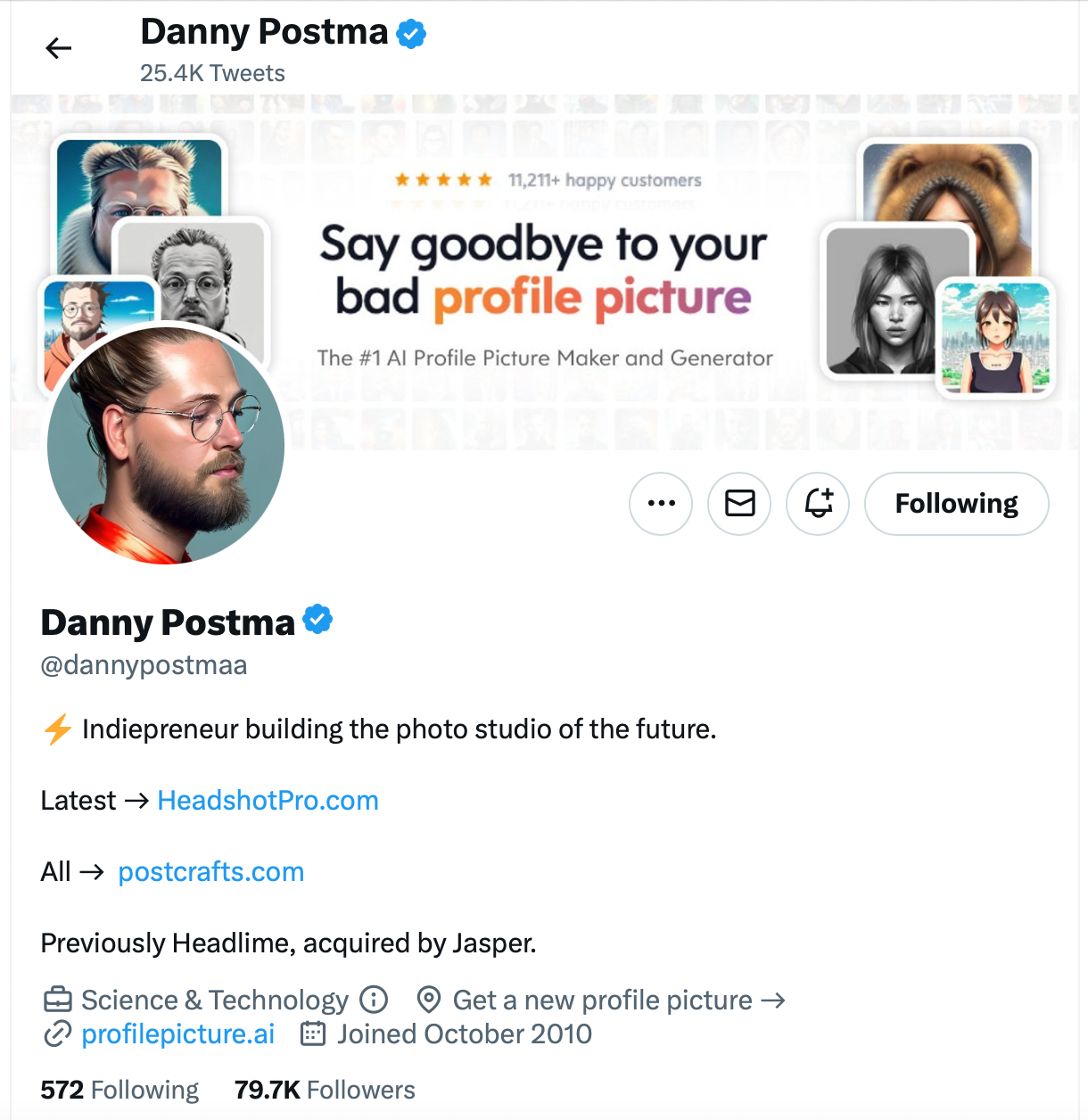 Dashiell Bark-Huss
Dashiell runs WishTender, a Wishlist site which is SW-friendly. She has ignored a lot of indie hacker advice to make a highly profitable marketplace. She's also a self-taught developer who I interviewed on my No CS Degree website and who made a morse code device that was triggered by her blinking!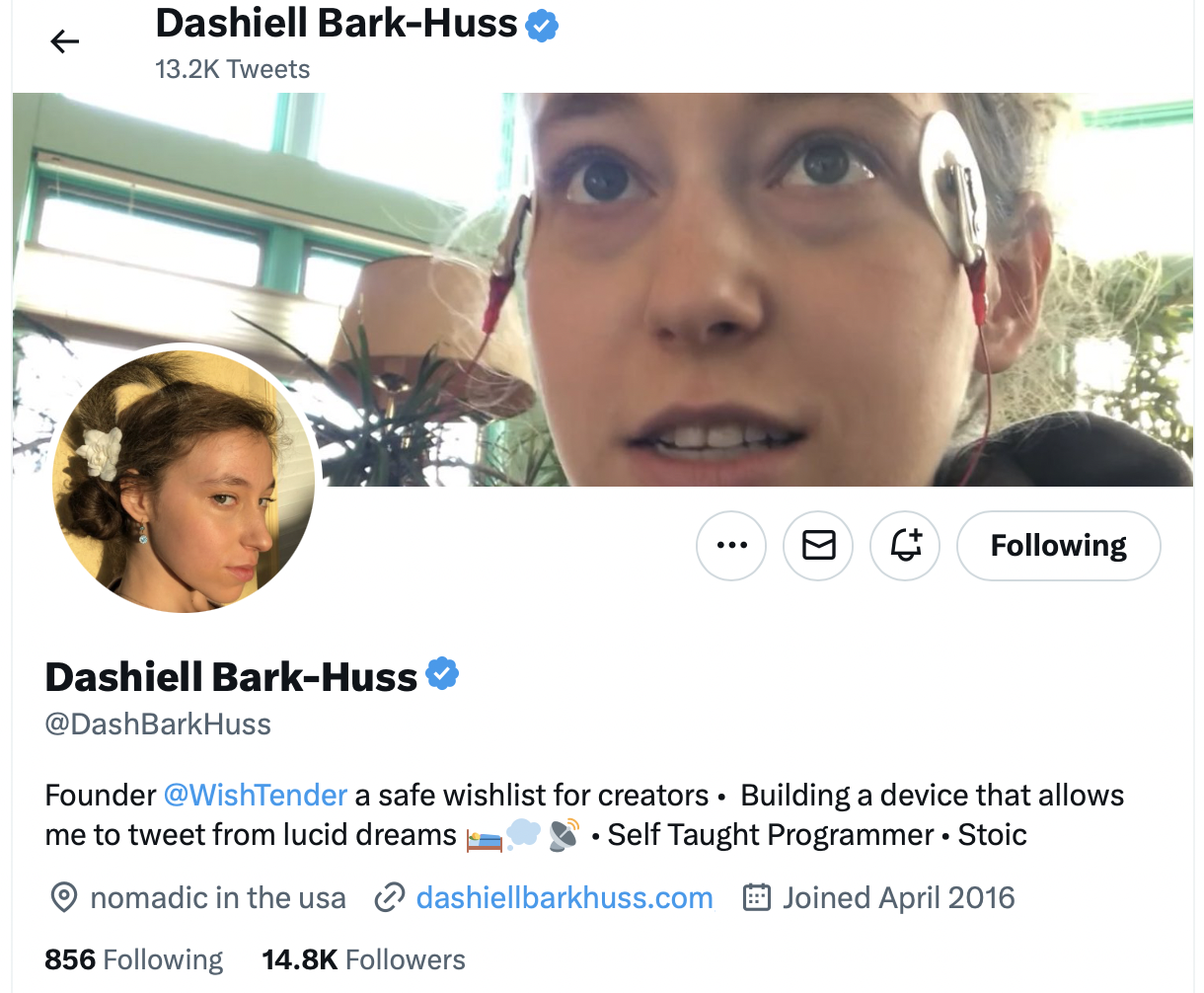 Jason Cohen
Jason has made millions from his WP Engine SaaS. His 2013 talk 'How to make the ideal bootstrapper business' is one of my favourite business presentations of all time!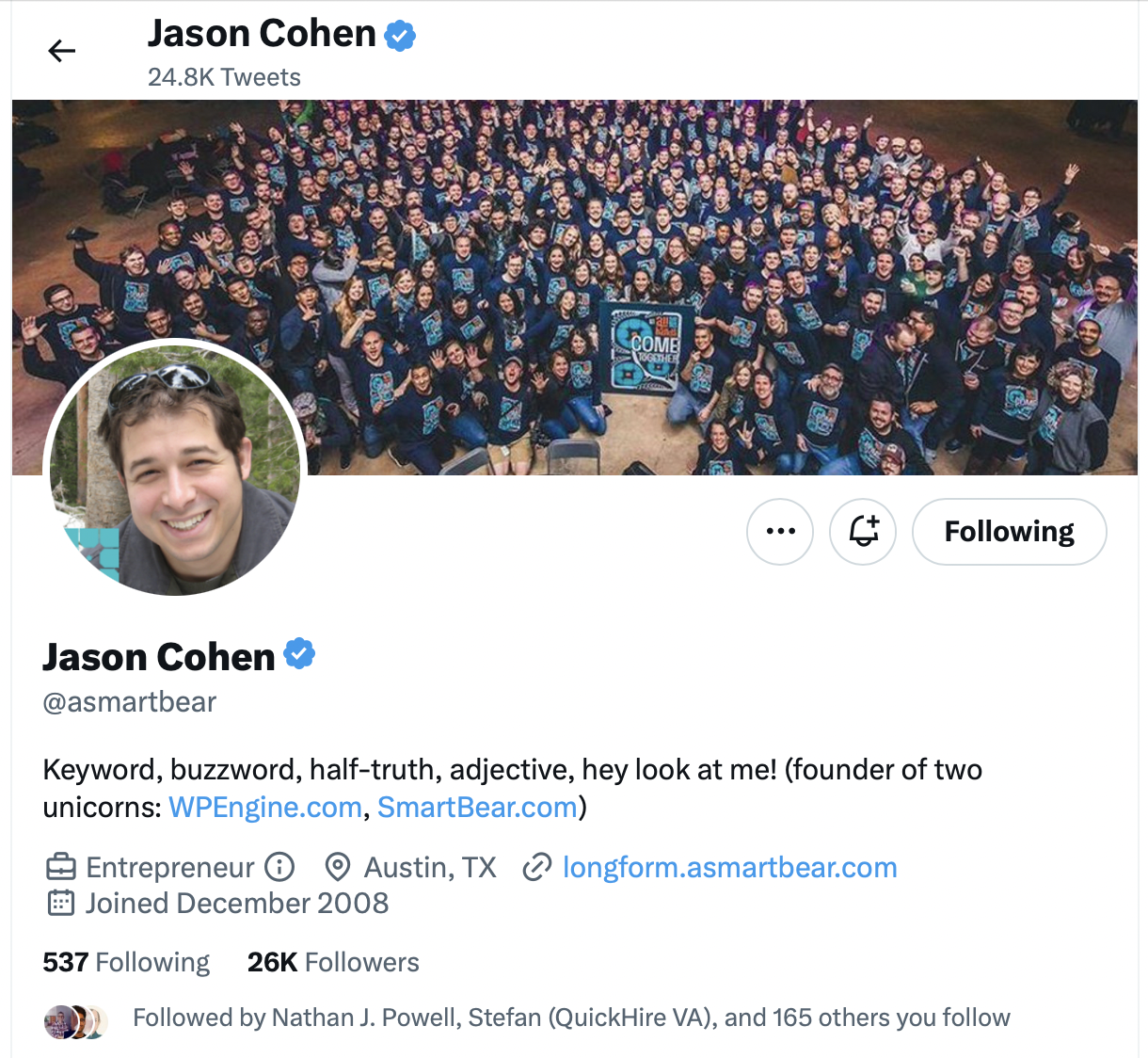 Justin Jackson
Justin is a Canadian marketing expert and the co-founder of Transistor FM, a podcast hosting SaaS which is doing 7 figures in revenue.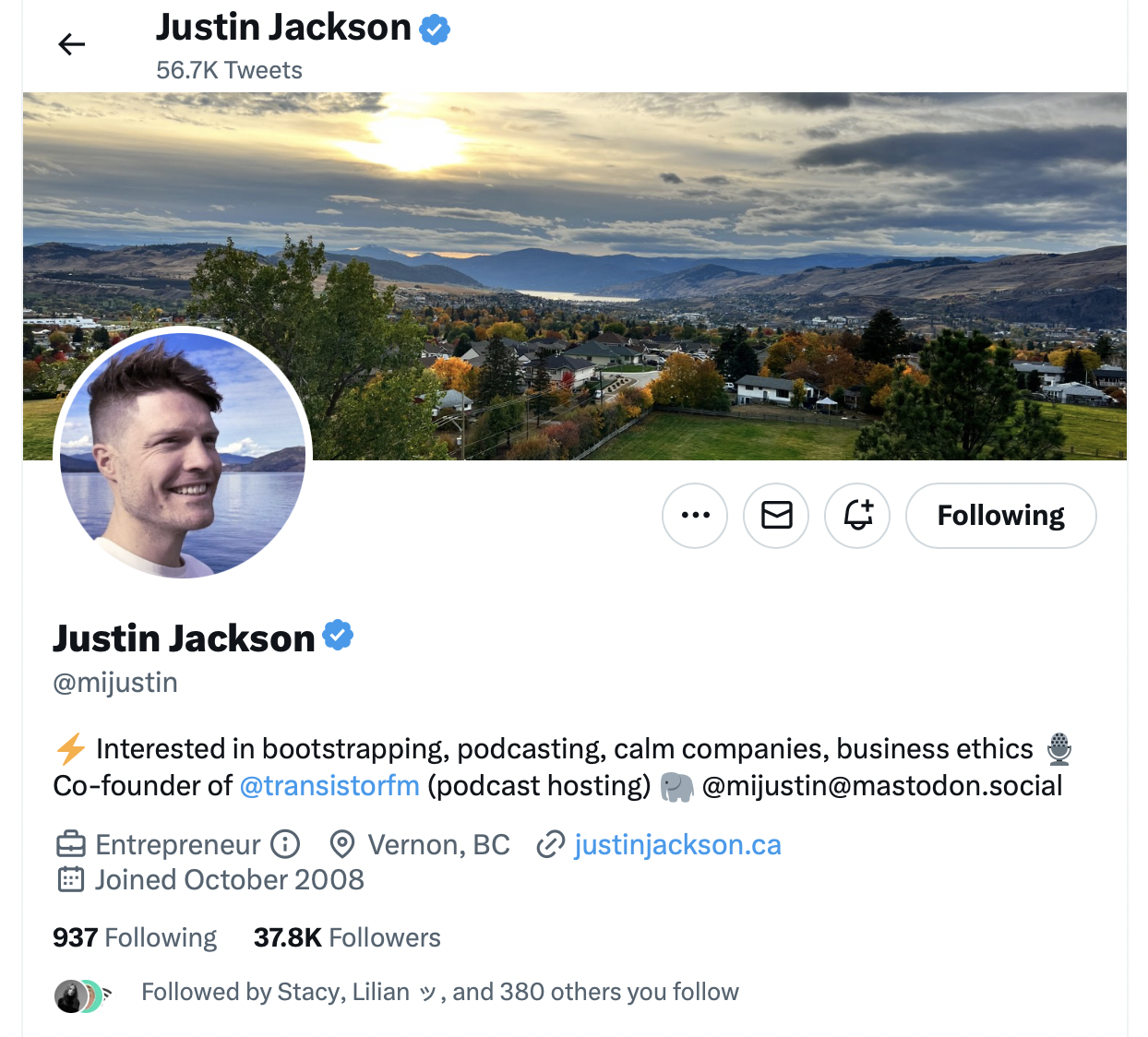 Alex West
Alex runs CyberLeads, a cold leads business. He's been growing fast to $40k MRR in 2 years and saw a big jump in revenue since adding a service of writing cold emails instead of only supplying founders with leads. Alex is a nomad and travels a lot. He is a big advocate of making a lifestyle business which first and foremost improves your own life.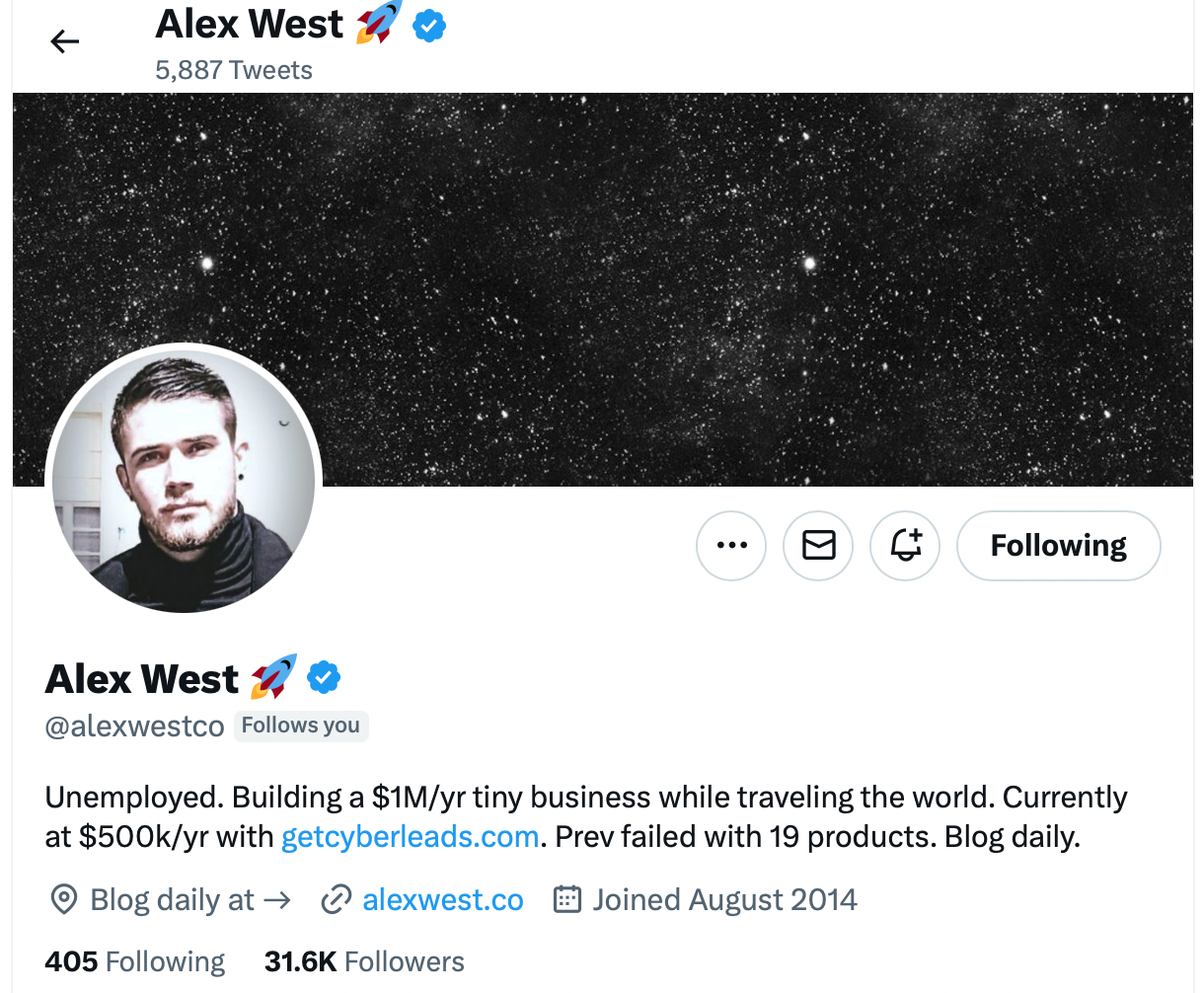 Tara Reed
Tara runs appswithoutcode, a business which teaches people not only how to build without code but also how to market and sell their business as well. Tara was making $3m a year when she was interviewed by IndieHackers in 2020 and I'd expect it to be a lot higher than that now! She also buys and grows businesses.
Tony Dinh
Tony created a lot of Twitter tools under the BlackMagic brand until he sold it to HypeFury for $186,000 in 2023. He is now working on an AI writing tool, Typing Mind.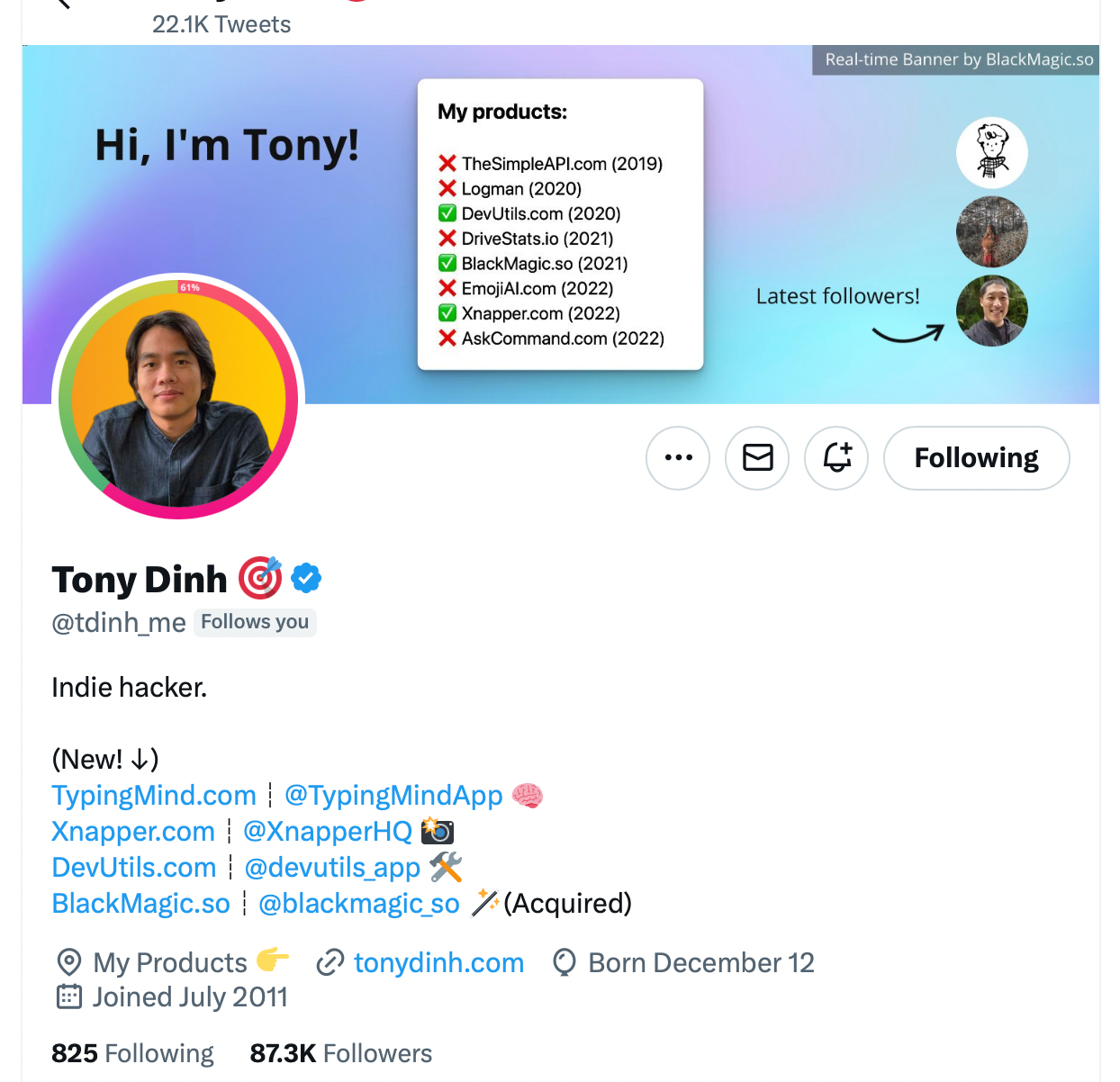 Courtland Allen
The founder of the highly influential Indie Hackers website, Courtland is a great authority on starting a bootstrapped business. Today Courtland runs Indie Hackers along with his brother Channing - they both also co-host the Indie Hackers podcast.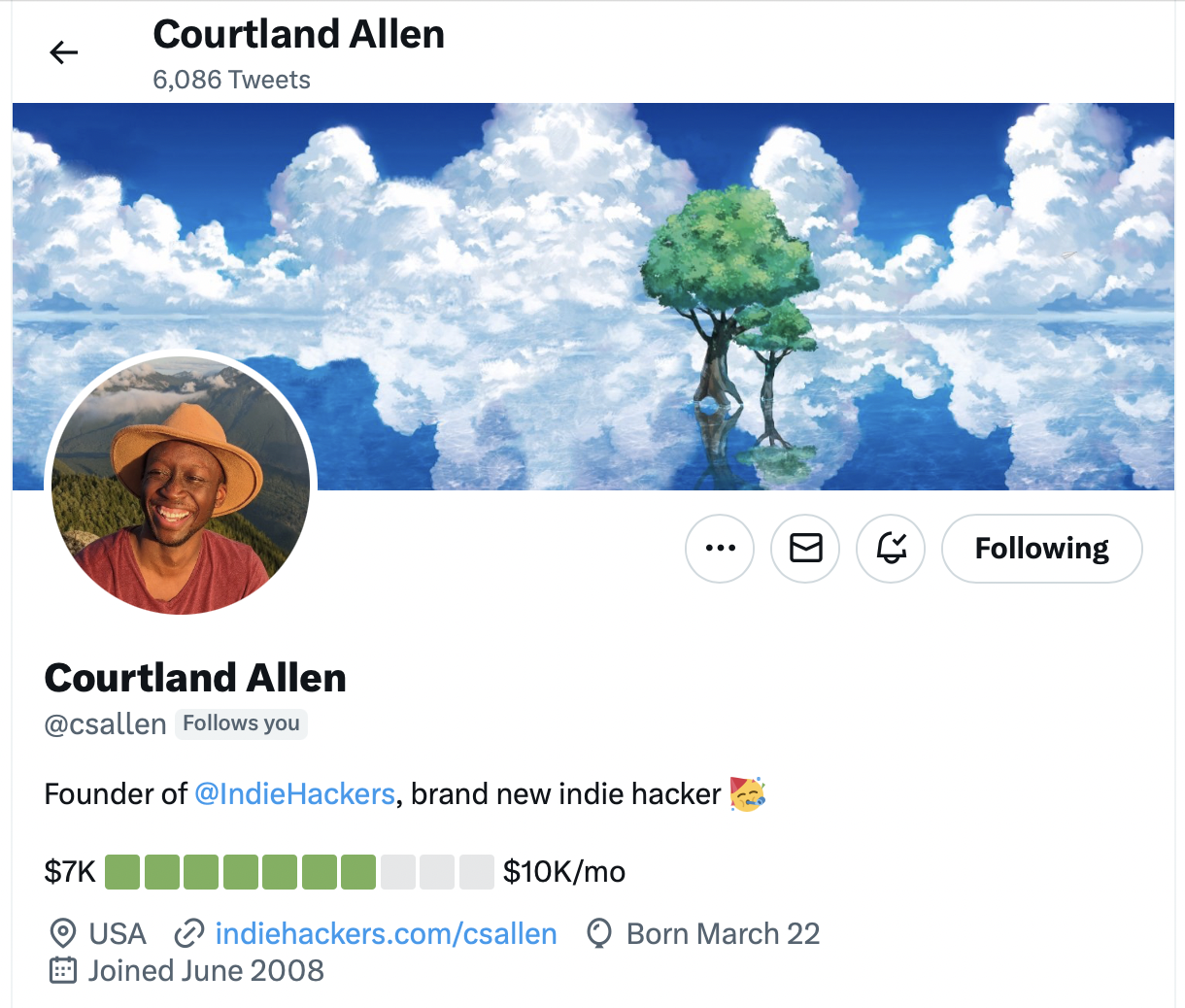 Anne-Laure Le Cunff
Anne-Laure is the founder of the Ness Labs community and publishes the Maker Mind newsletter. You'll learn why so many bio-science myths are plain wrong - thanks to Anne-Laure I know that people don't just mainly use the left or right side of their brain.
Get my bootstrapper updates
Jon Yongfook
Jon is a founder who has seen a lot of success with his Bannerbear product which helps people make social media images automatically from a template. At the time of writing he is making $50k MRR. He started it after doing a 12 startups in 12 months challenge.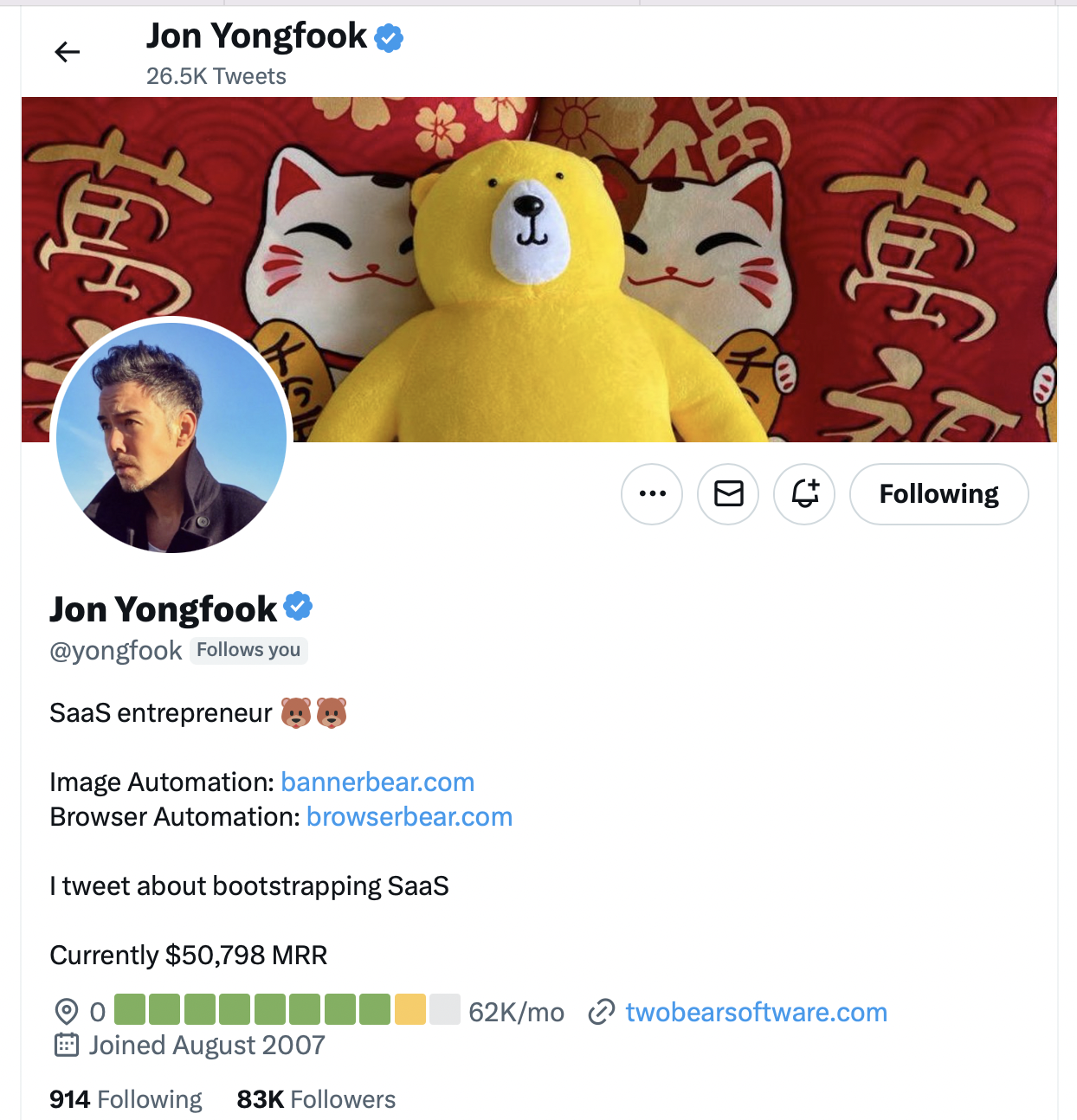 Laura Roeder
Laura was the co-founder of MeetEdgar, which grew to millions in annual revenue before she sold it this year for a life-changing sum of money. Laura is now working on PaperBell, a SaaS for the life coach industry. She is a strong believe in working as a bootstrapper and is an expert in copywriting.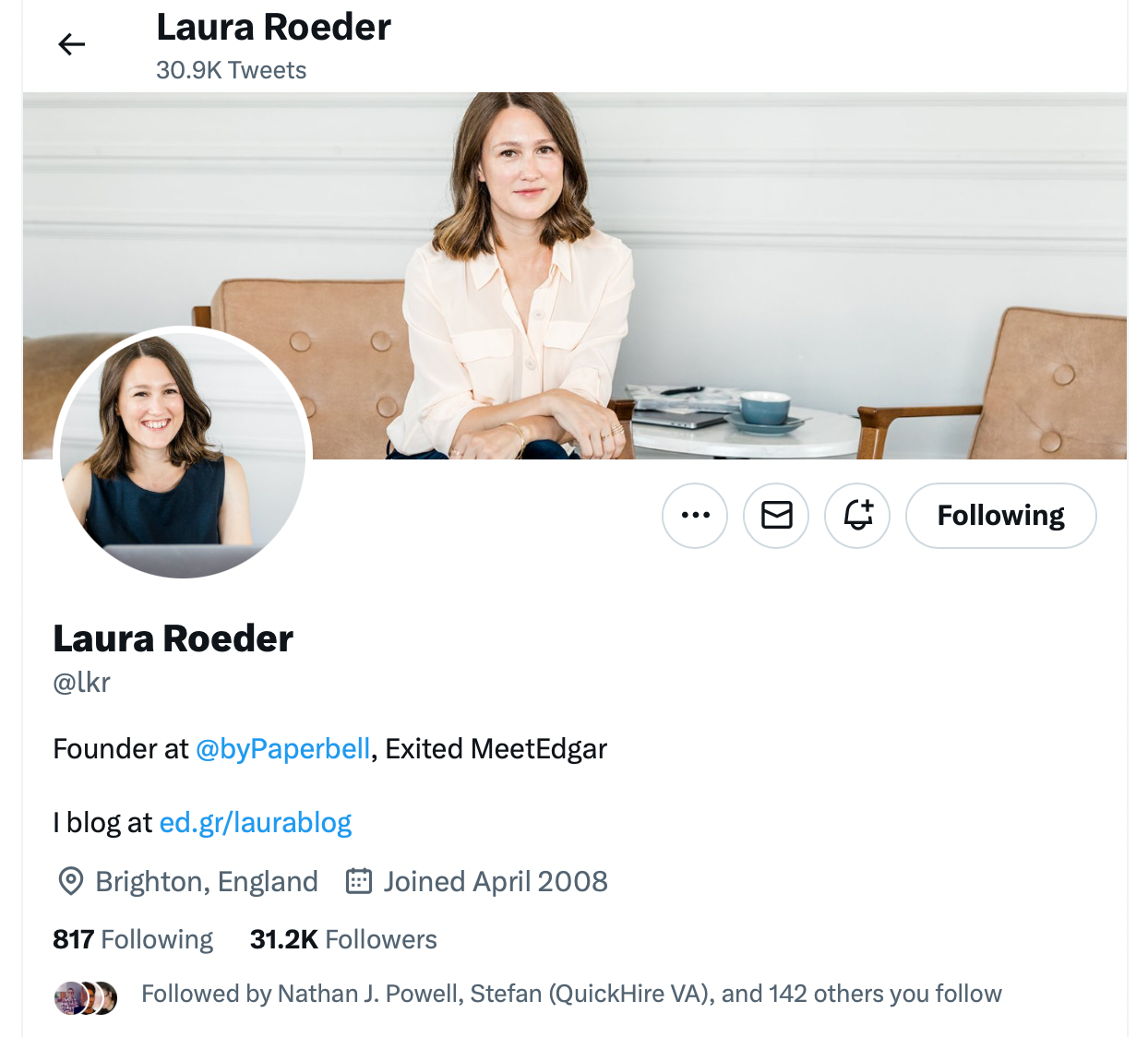 Tom Jacquesson
Tom Jacquesson is the co-founder of TweetHunter, a scheduling and AI writing tool for Twitter and heads up their marketing. Tom and his team have grown TweetHunter to over $1m ARR in the space of a year and sold it to Lemleur in 2023.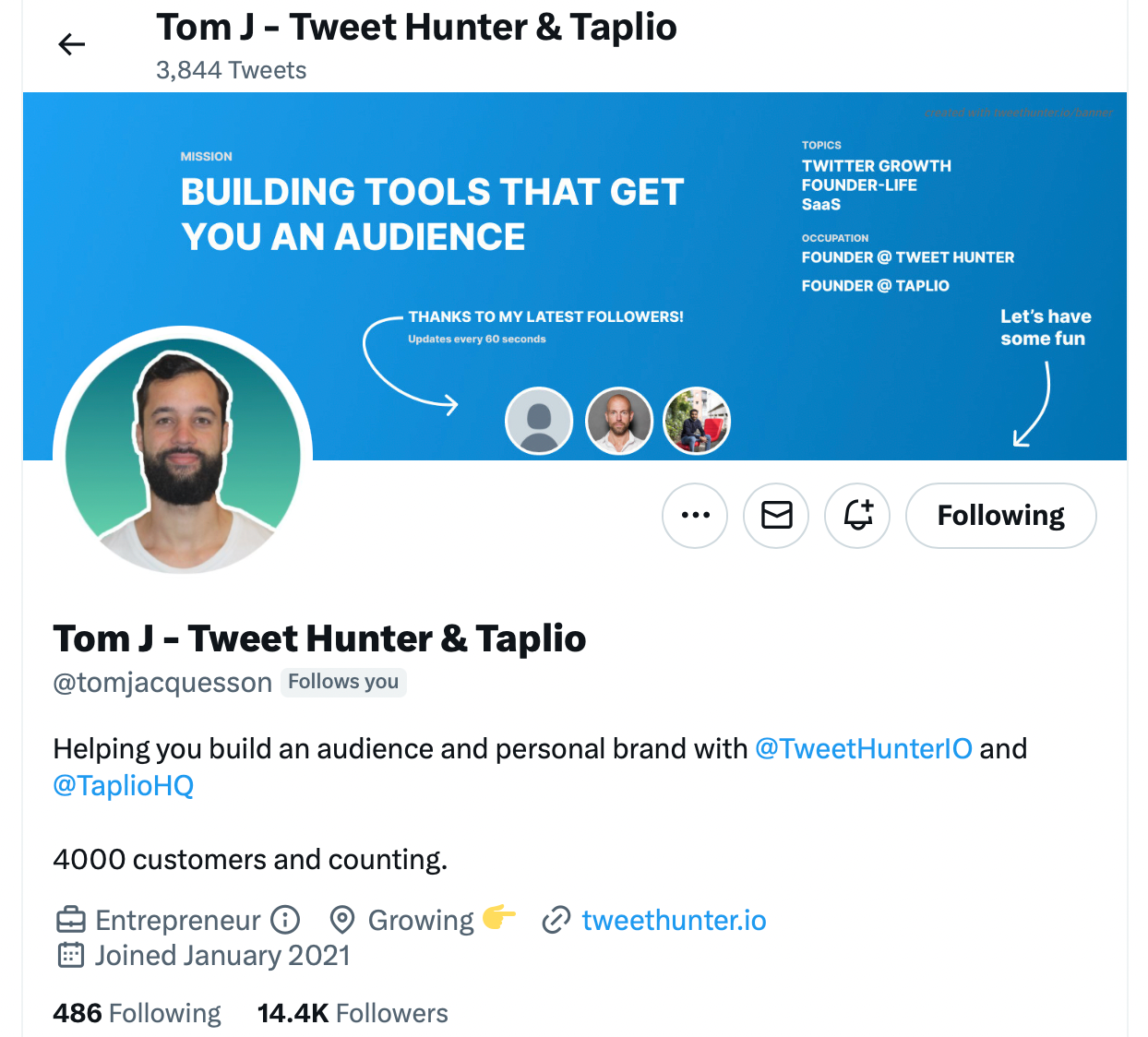 Andrew Kamphey
Andrew is the founder of Better Sheets where he sells video tutorials on how to become an advanced user of Google Sheets. He's a hugely enthusiastic founder and is always full of ideas on how to make money. Andrew has grown the business to around $10k/m with lifetime deals on AppSumo.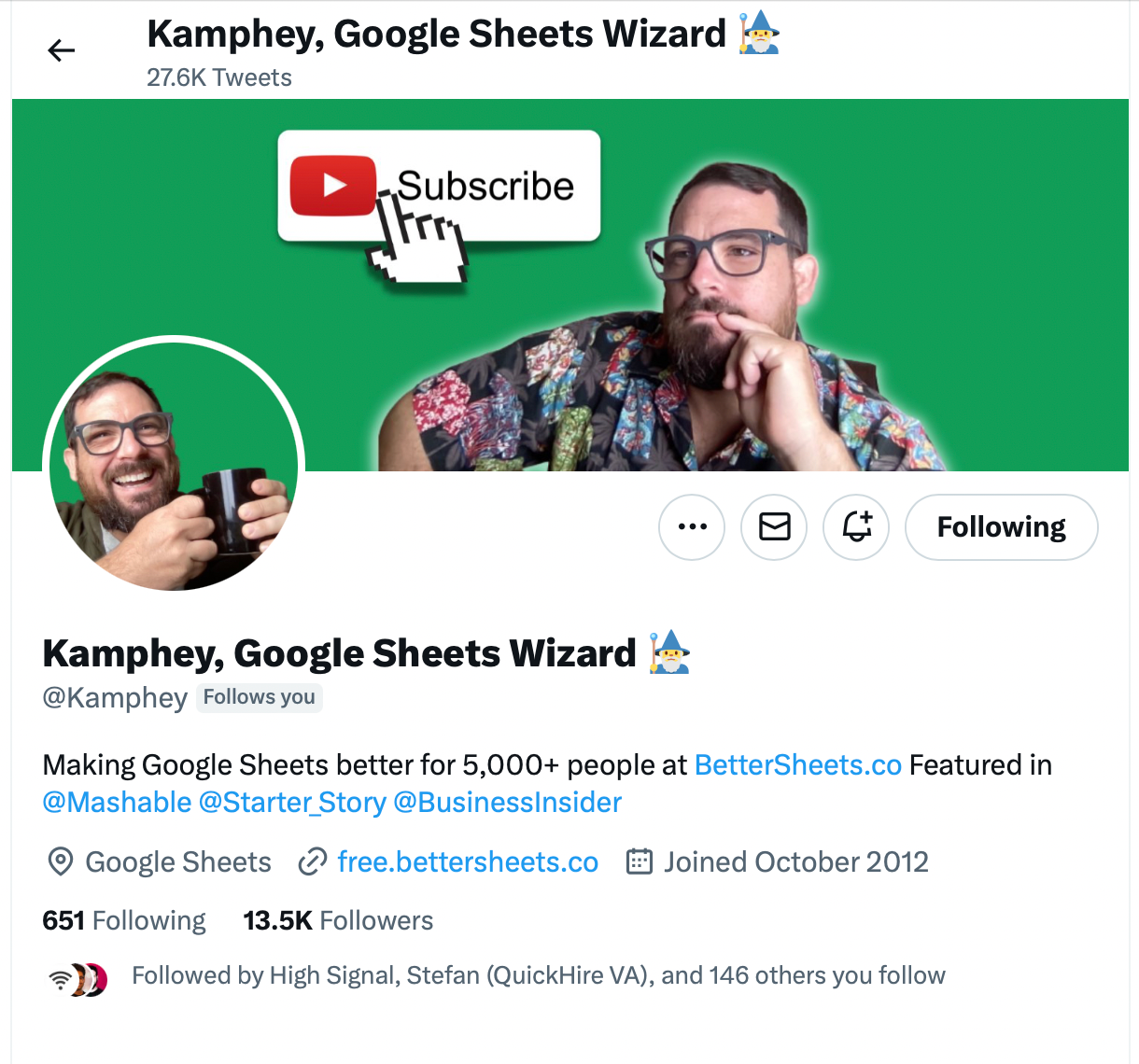 Rosie Sherry
Rosie created a 7-figure tech community, Ministry of Testing. Rosie also used to be in charge of the community forum on the Indie Hackers website. She now runs Rosieland, which helps community builders.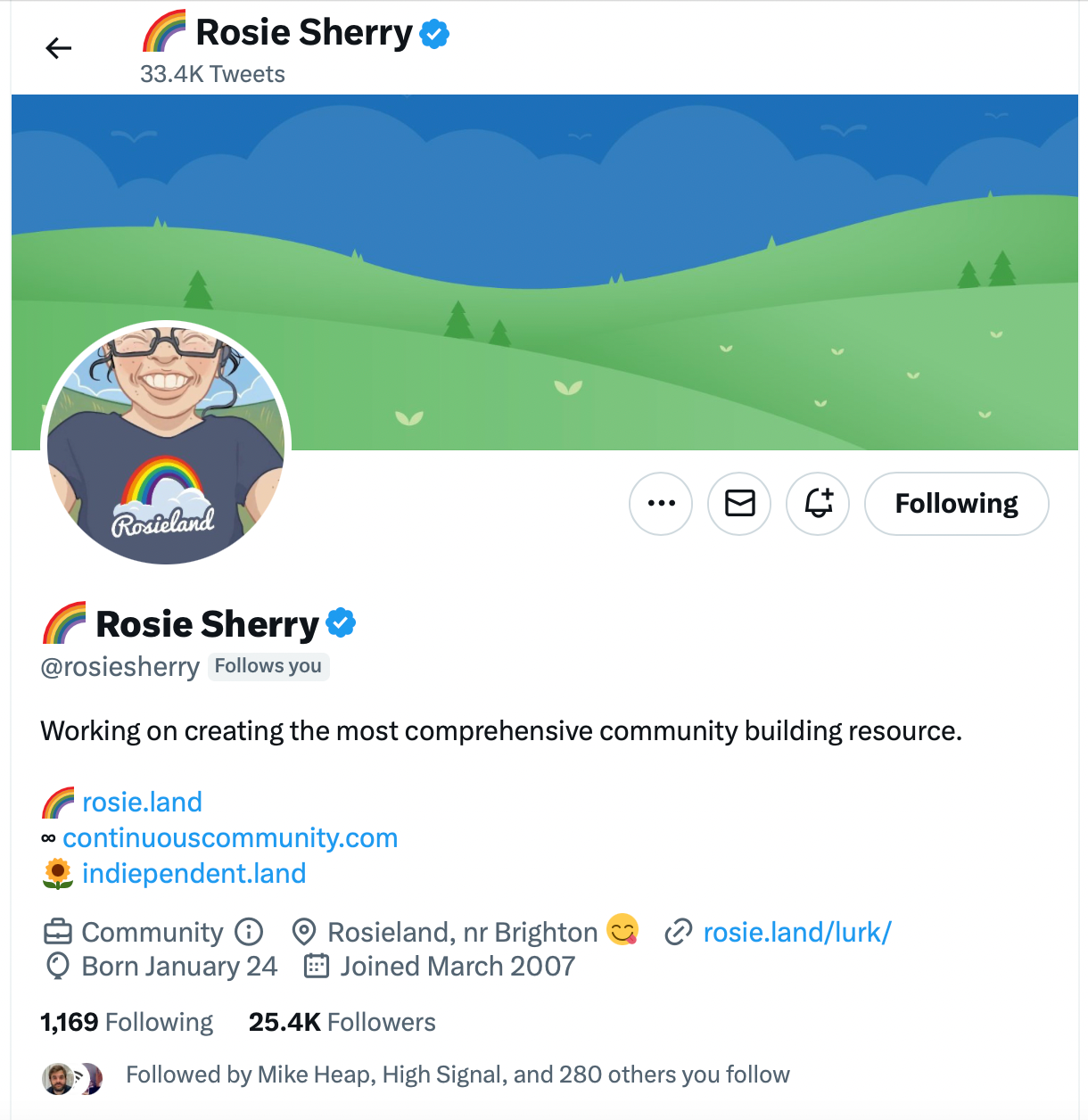 Devan Sabaratnam
Devan is an Australian founder who has built his HR Partner SaaS up to 7 figures in revenue aged 56. He's a great example of someone finding big success later than the usual age for founders.
Pete Codes
Yeah, I added myself to my own list. I'm the founder of No CS Degree, where I interview developers who are self-taught or went to coding bootcamp. I also run the High Signal newsletter for indie startup news. I mostly tweet about bootstrapping, newsletters, learning to code, and being a Twitter ghost writer.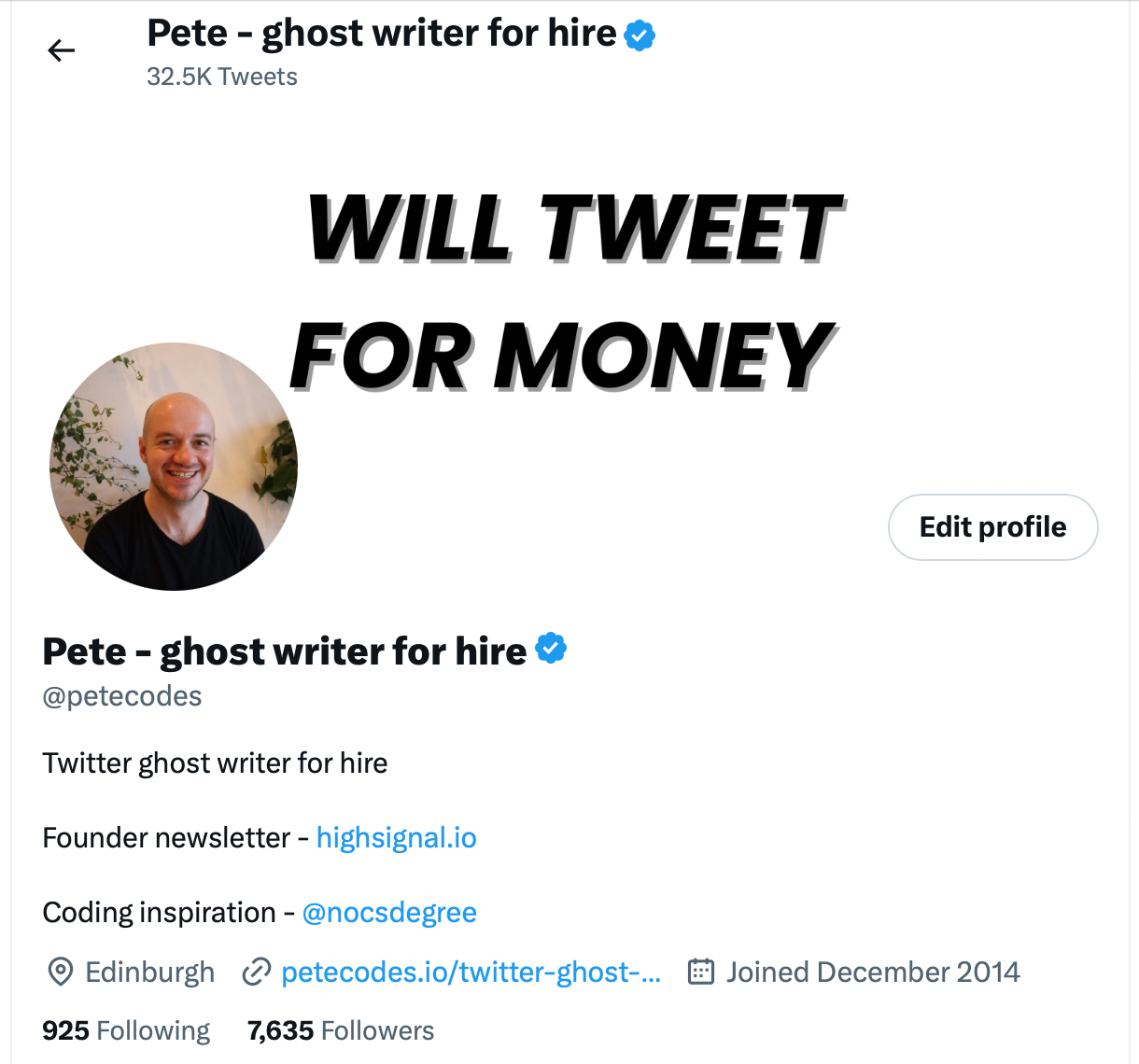 Jen from LunchBag
Jen is the developer and solo founder of LunchMoney, a money tracking app. You would think this would be a really hard market for an indie hacker but Jen has impressively grown LunchMoney's revenue to $14k/m.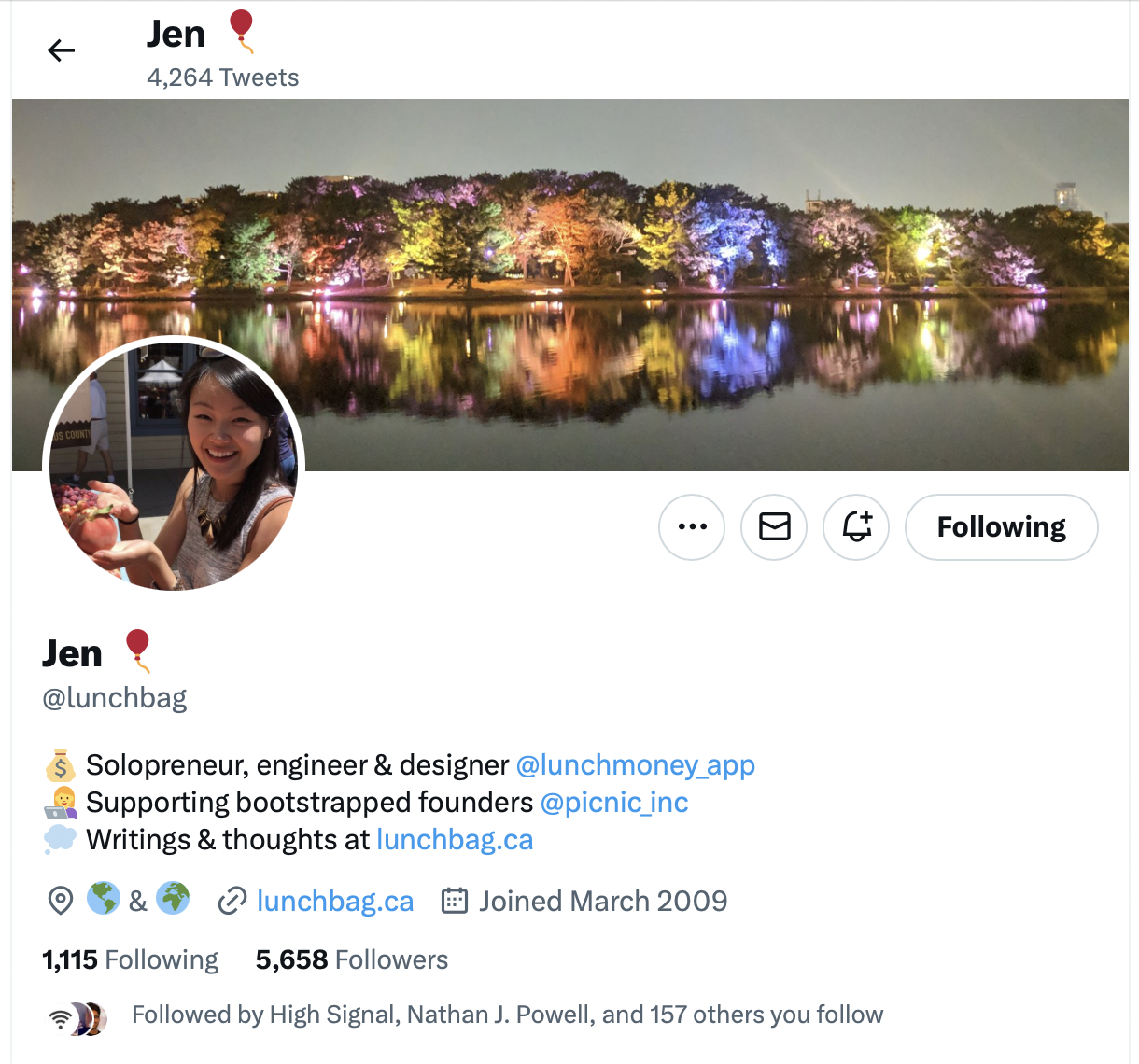 Julian Canlas
Julian is the founder of Embarque, a productized SEO agency which provides founders with blog articles in order to rank quicker and better. Julian has grown Embarque to $610,000 in annual revenue in under two years! He frequently shares tips on SEO and building an agency.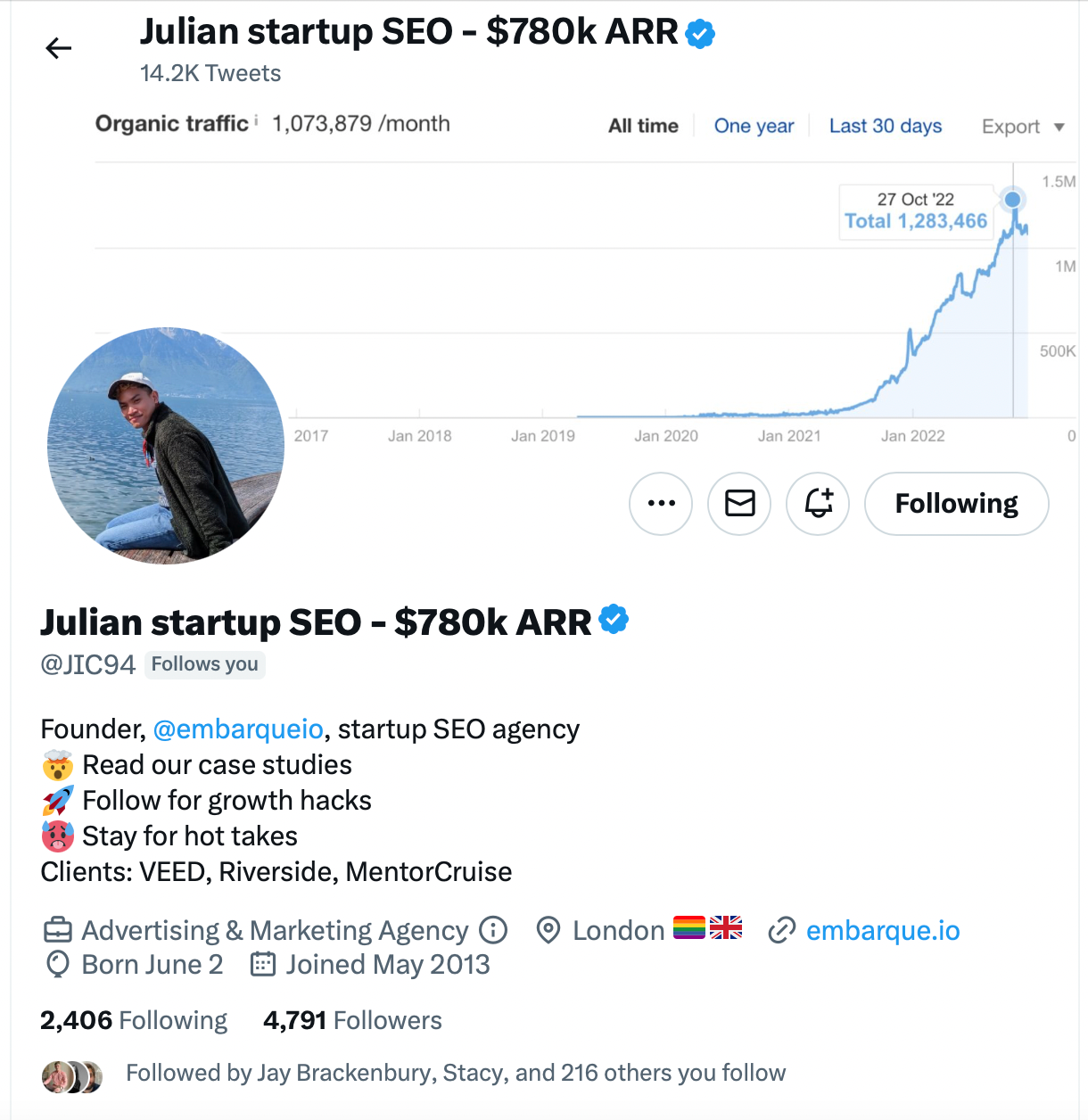 Randall Kanna
Randall Kanna is a bootcamp-trained developer who has sold many successful products aimed at people entering the tech field for the first time. She specialises in selling courses and other info products. Randall is also building SimpleCopy, in order for people to write blog posts faster.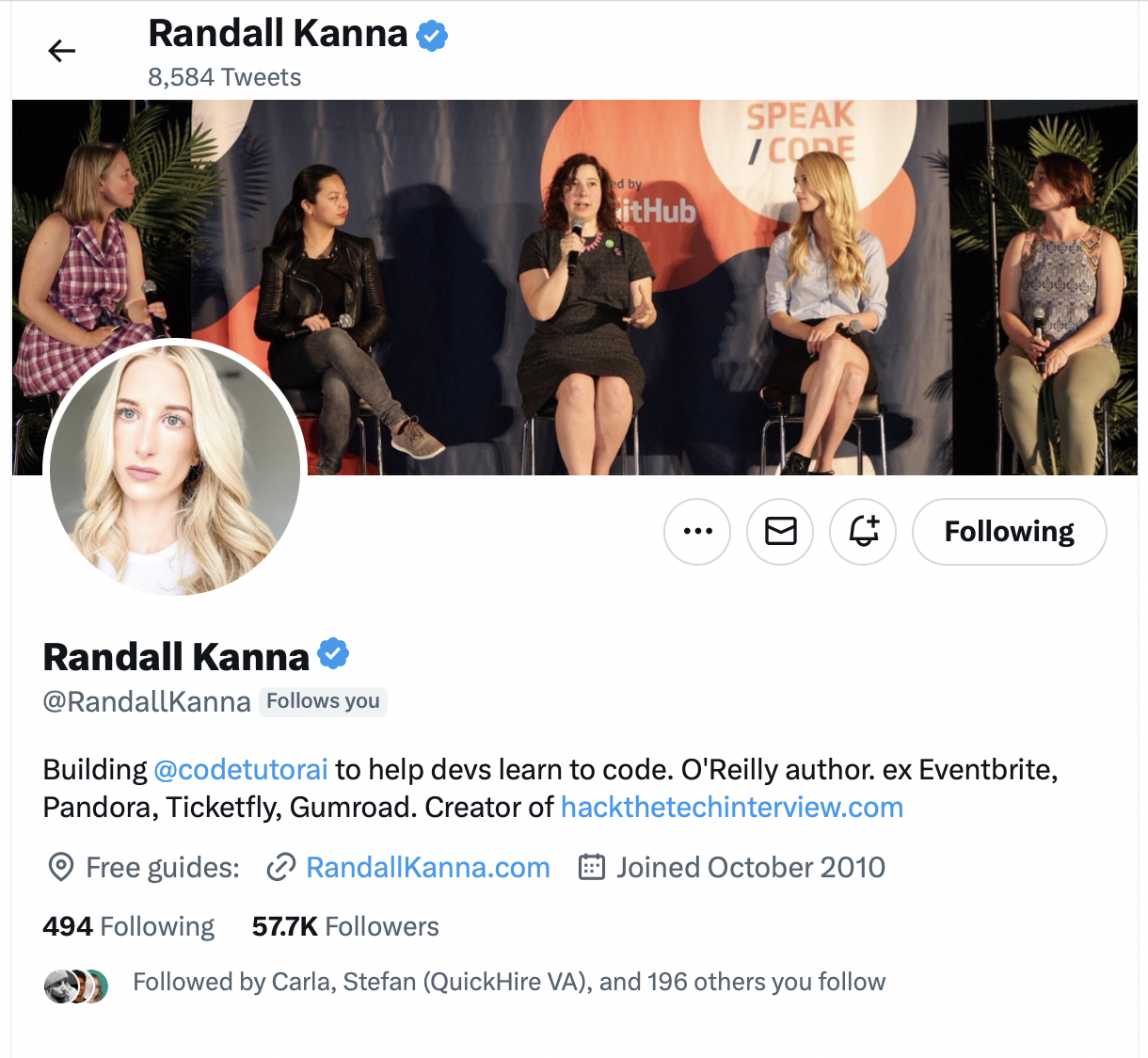 Arvid Kahl
Arvid is a German founder who c0-founded FeedbackPanda, an app for English teachers to give feedback to their students. Him and his wife grew the business to $50k MRR before selling it for a 'life changing amount of money'. Nowadays Arvid has an active Twitter, YouTube and podcast as he dispenses advice to bootstrapped founders.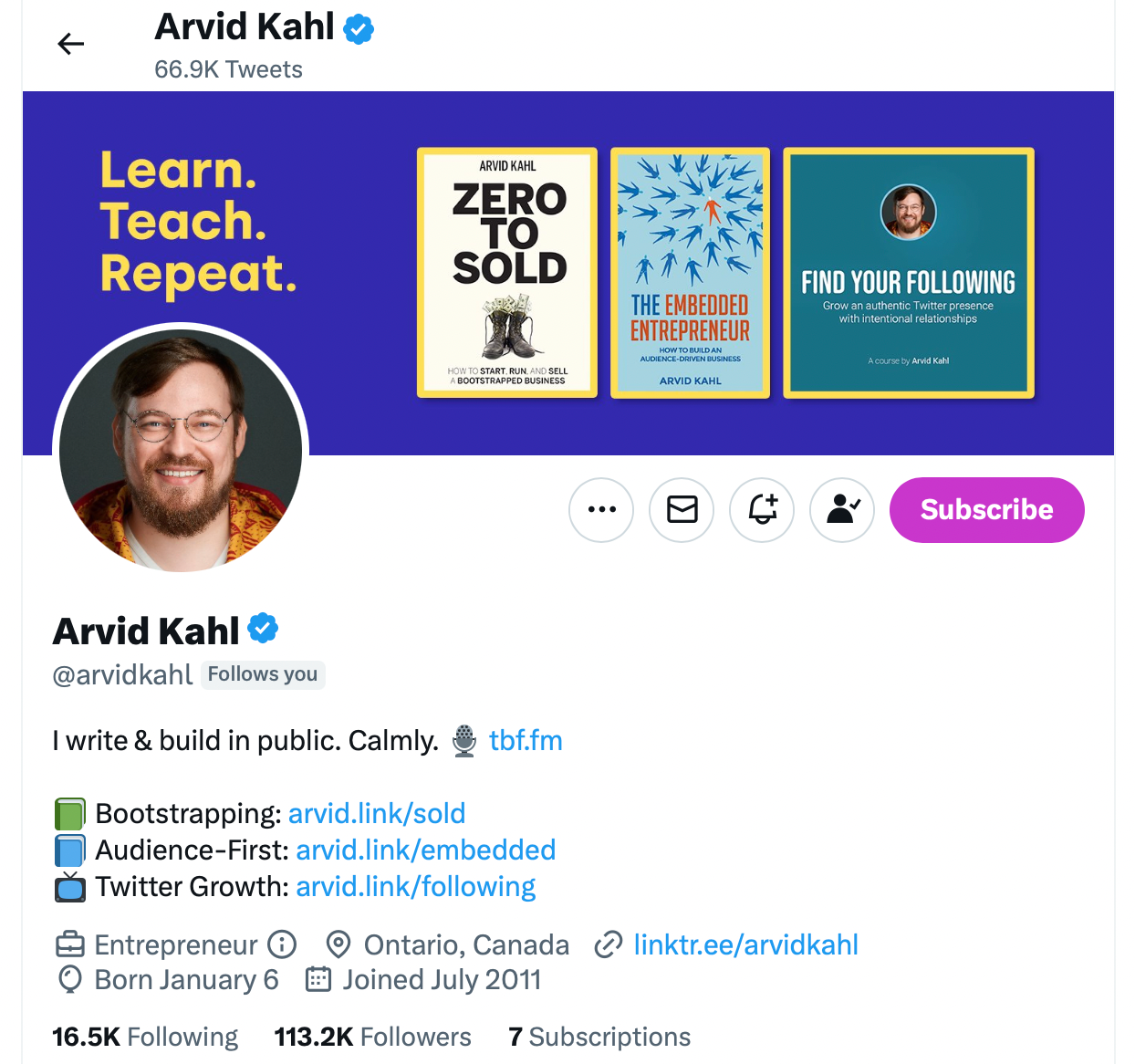 Marie Martens
Marie is the co-founder of Tally Forms, a bootstrapped Typeform alternative. I actually use this myself and it has a lot more features at a cheaper price point.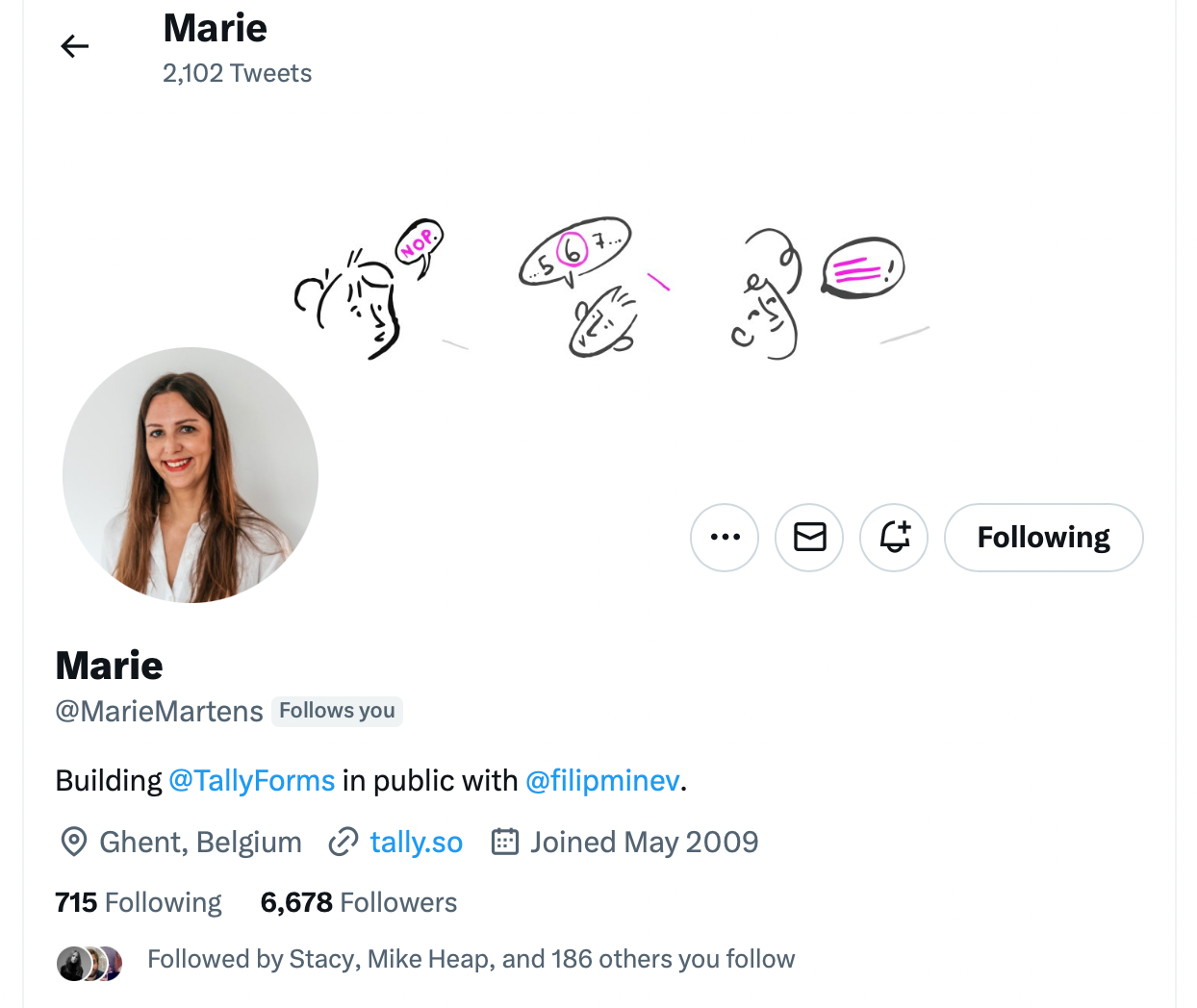 Noah Bragg
Noah is a bootstrapped founder who created the Potion blogging system which allowed you to write a blog inside Notion. Noah has been a big advocate of 'building in public' and I interviewed him for my High Signal website for founder news in 2023. He sold his Potion site for $300,000 in June 2023.
Allison Seboldt
Allison is the founder of Page Factory, a service  which helps founders grow their traffic with programmatic SEO. She has also made a free programmatic SEO course for entrepreneurs. I interviewed her for my High Signal site about growing websites with SEO.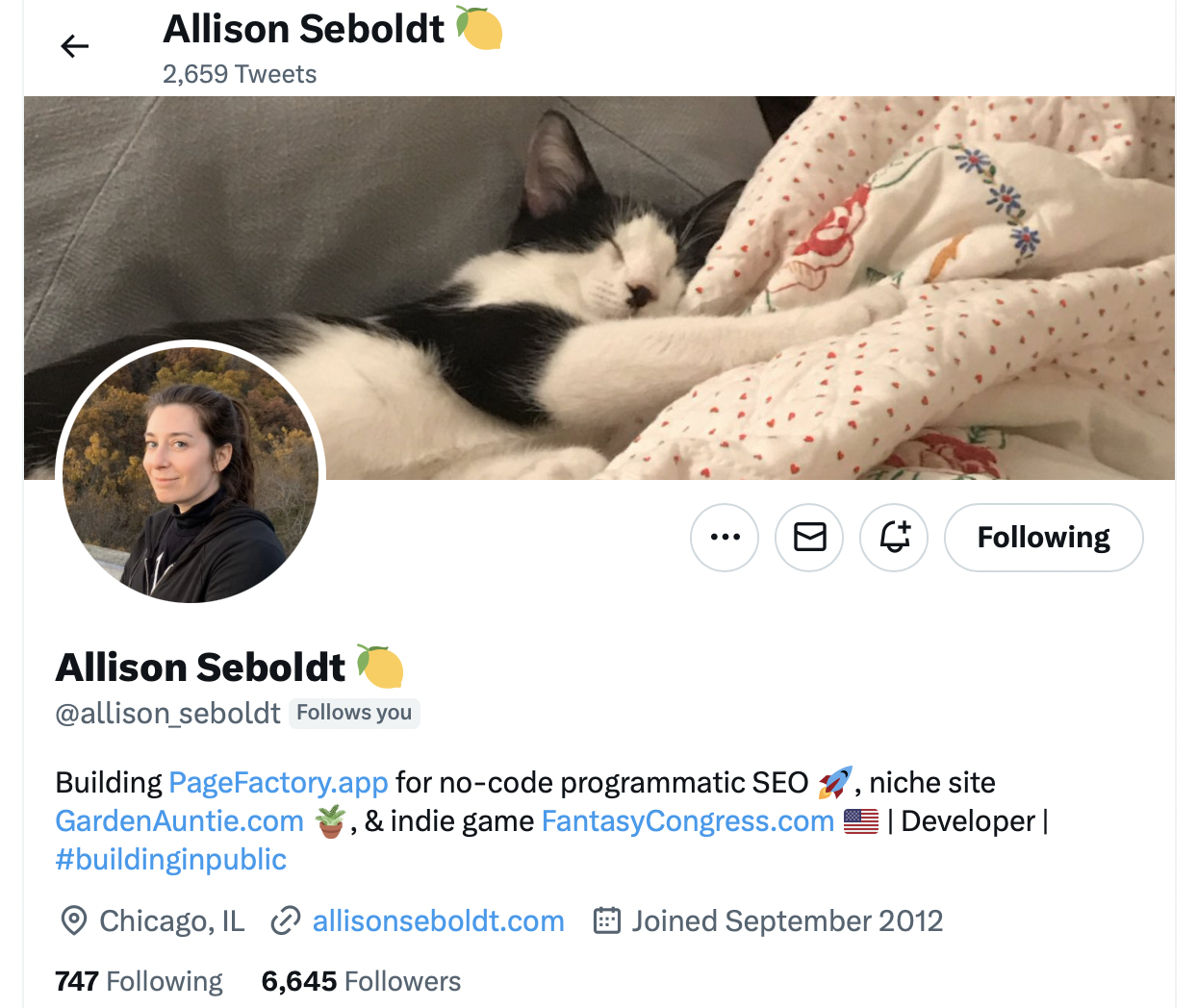 Daniel Vasallo
Daniel made his name for quitting his well-paid job at AWS and going all in on entrepreneurship. He has had many successful info products such as the Everyone Can Build a Twitter Audience course. Nowadays he runs his own Tiny Bets community.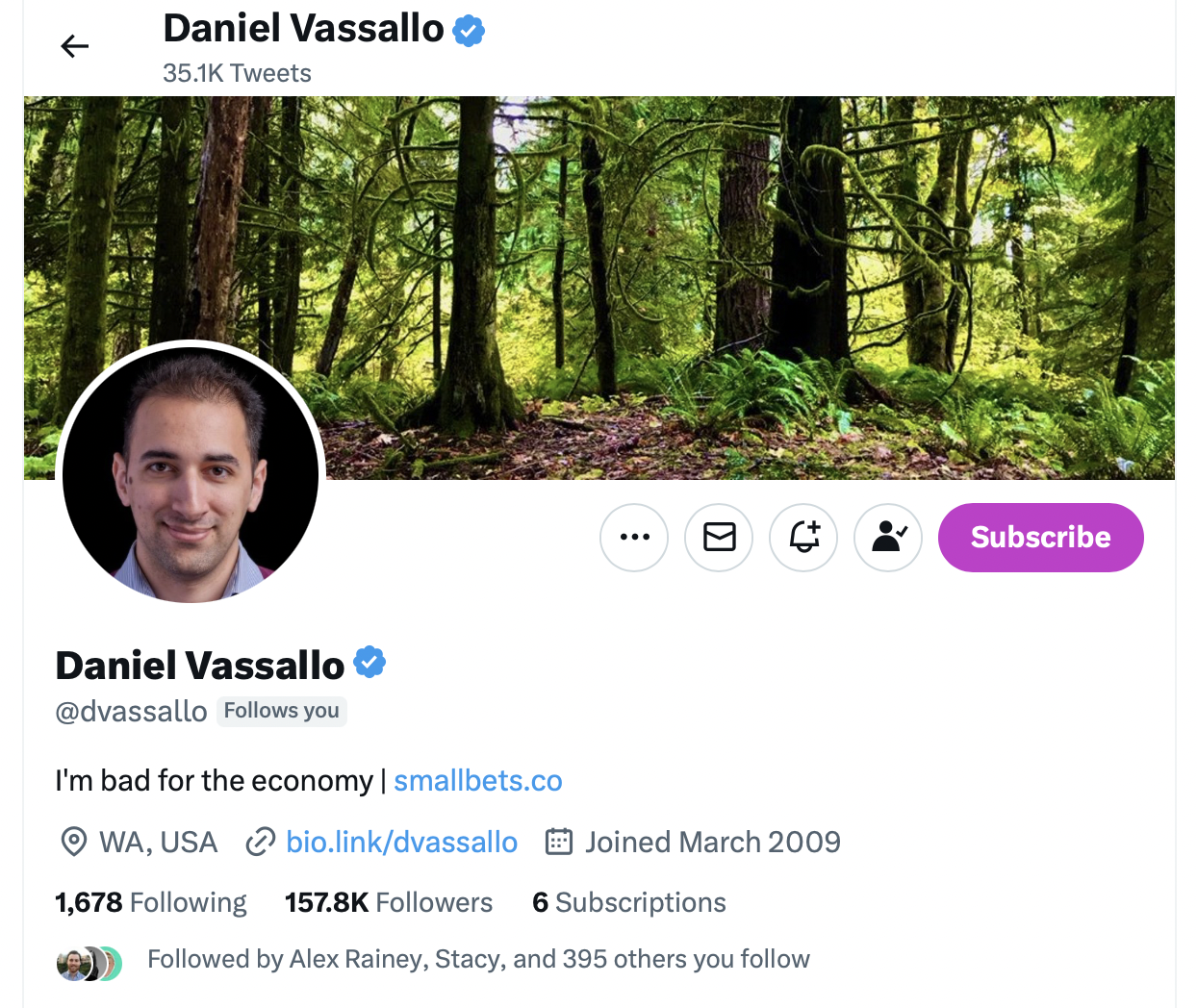 Rob Walling
Rob is the host of the long-running podcast, Startups For the Rest of Us. He is also the co-creator of the TinySeed accelerator for bootstrapped founders.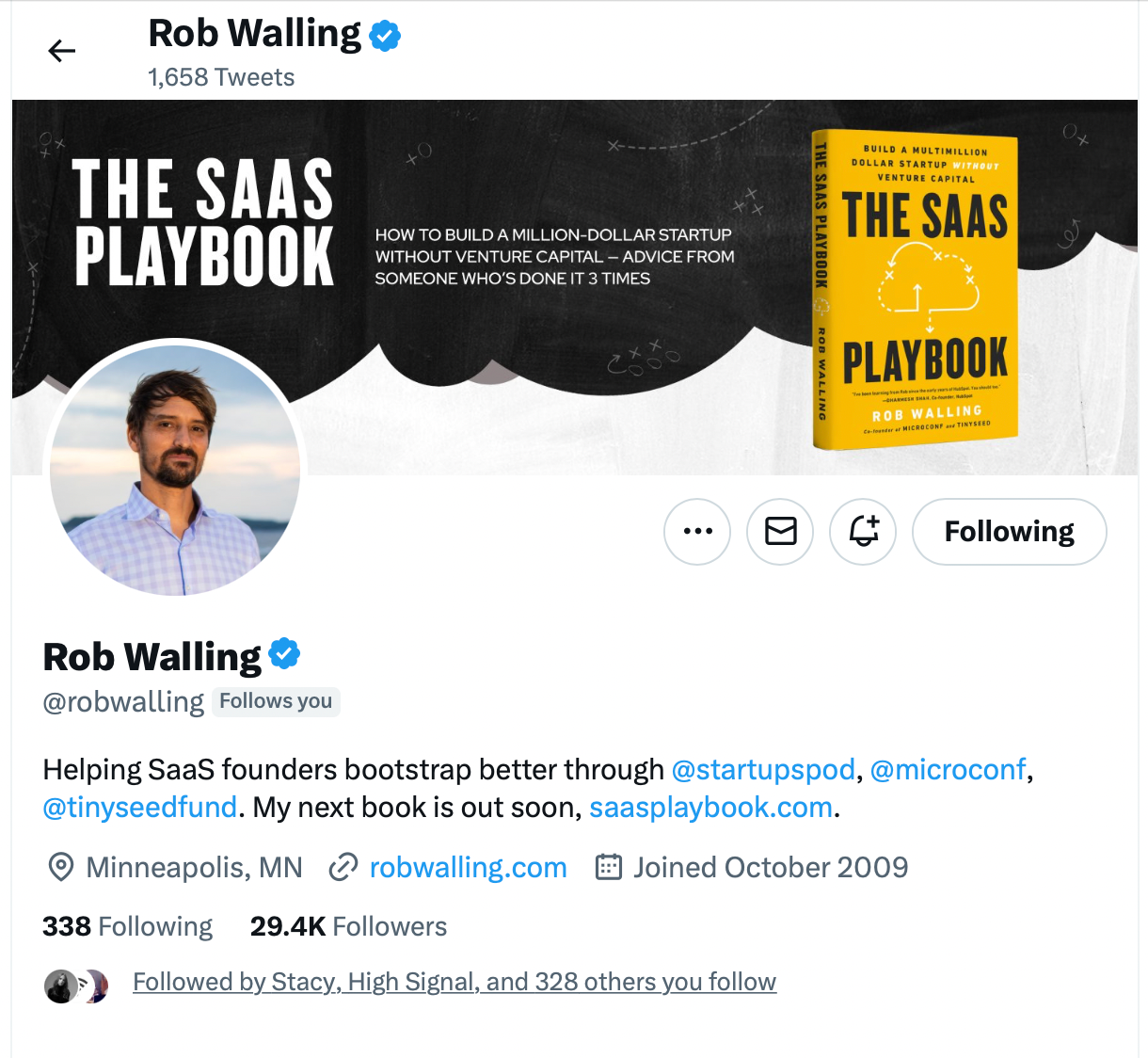 Marc Köhlbrugge
Marc is a prolific founder, having created websites like the directory Beta List, the job board Startup Jobs, the WIP community and many more. He has also made the free Build in Public site which scrapes Twitter for mentions of the #BuildInPublic hashtag.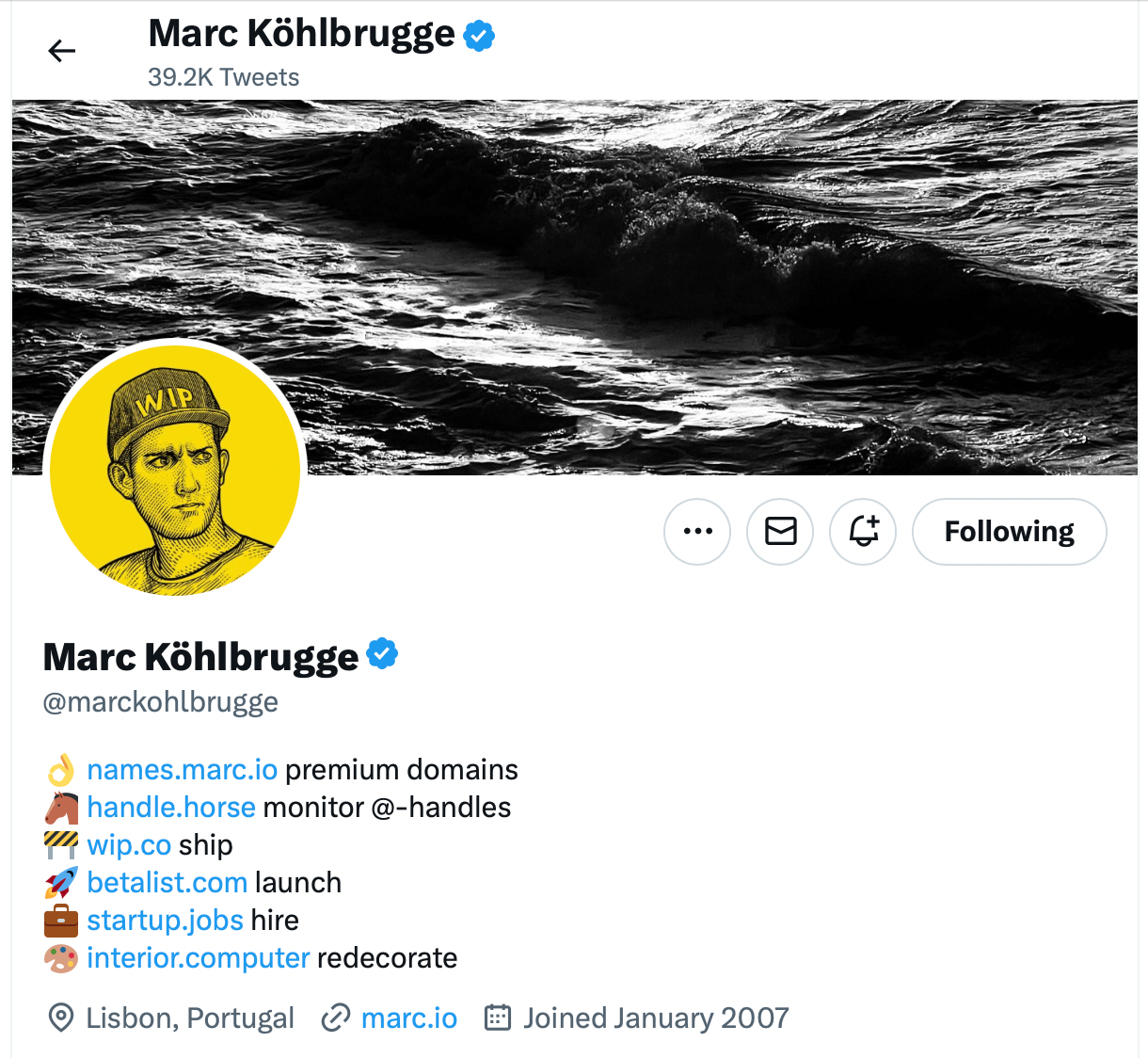 Jakob Greenfeld
Jakob runs the excellent Business Brainstorms newsletter, which is one of the few emails I open regularly.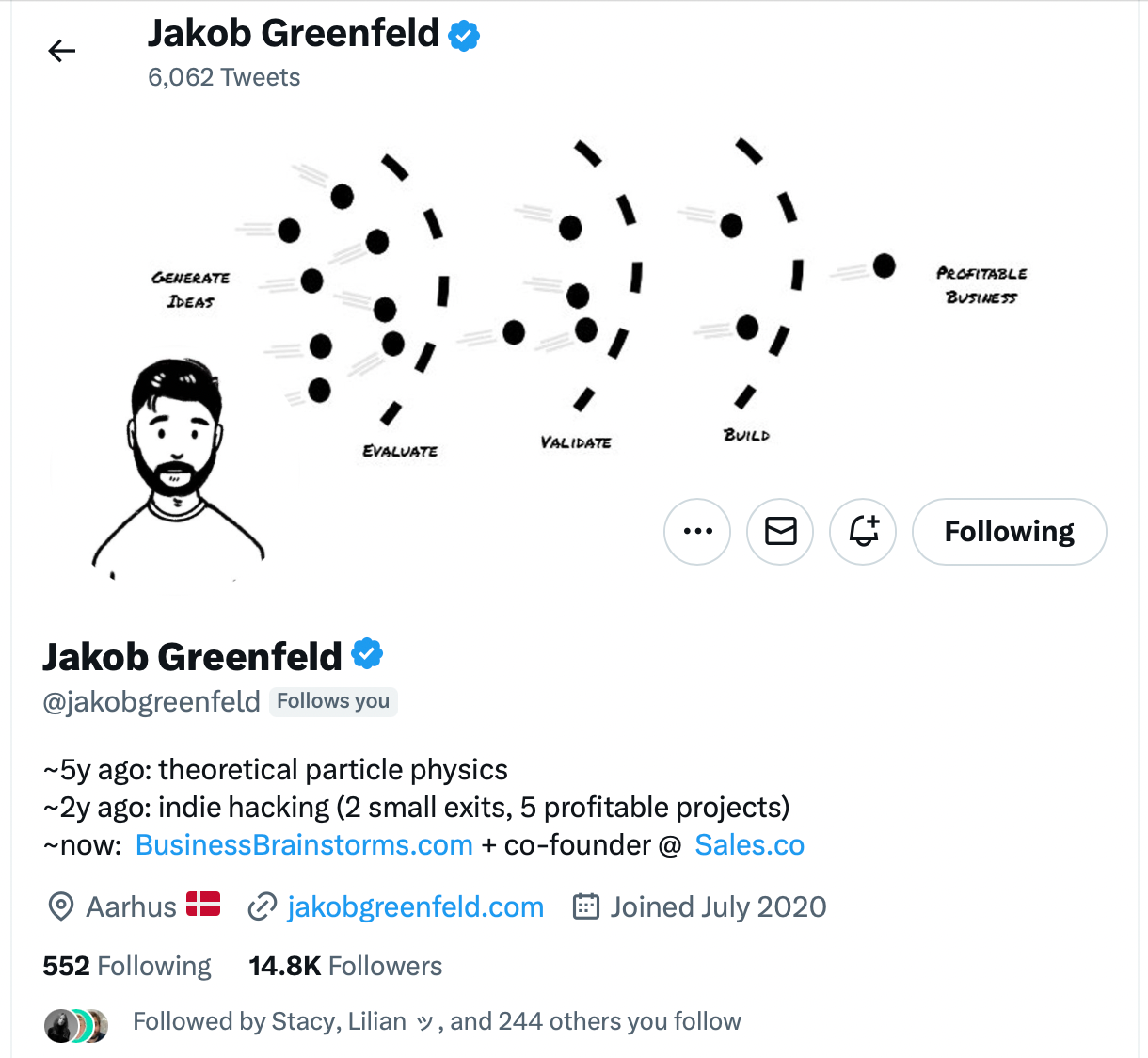 Phil McParlane
Phil is a fellow Scottish entrepreneur and developer who makes the job board 4dayweek.io. He's a big supporter of the shift towards a 4 day week. Phil also shares lots of great SEO tips from growing 4dayweek as a solo founder.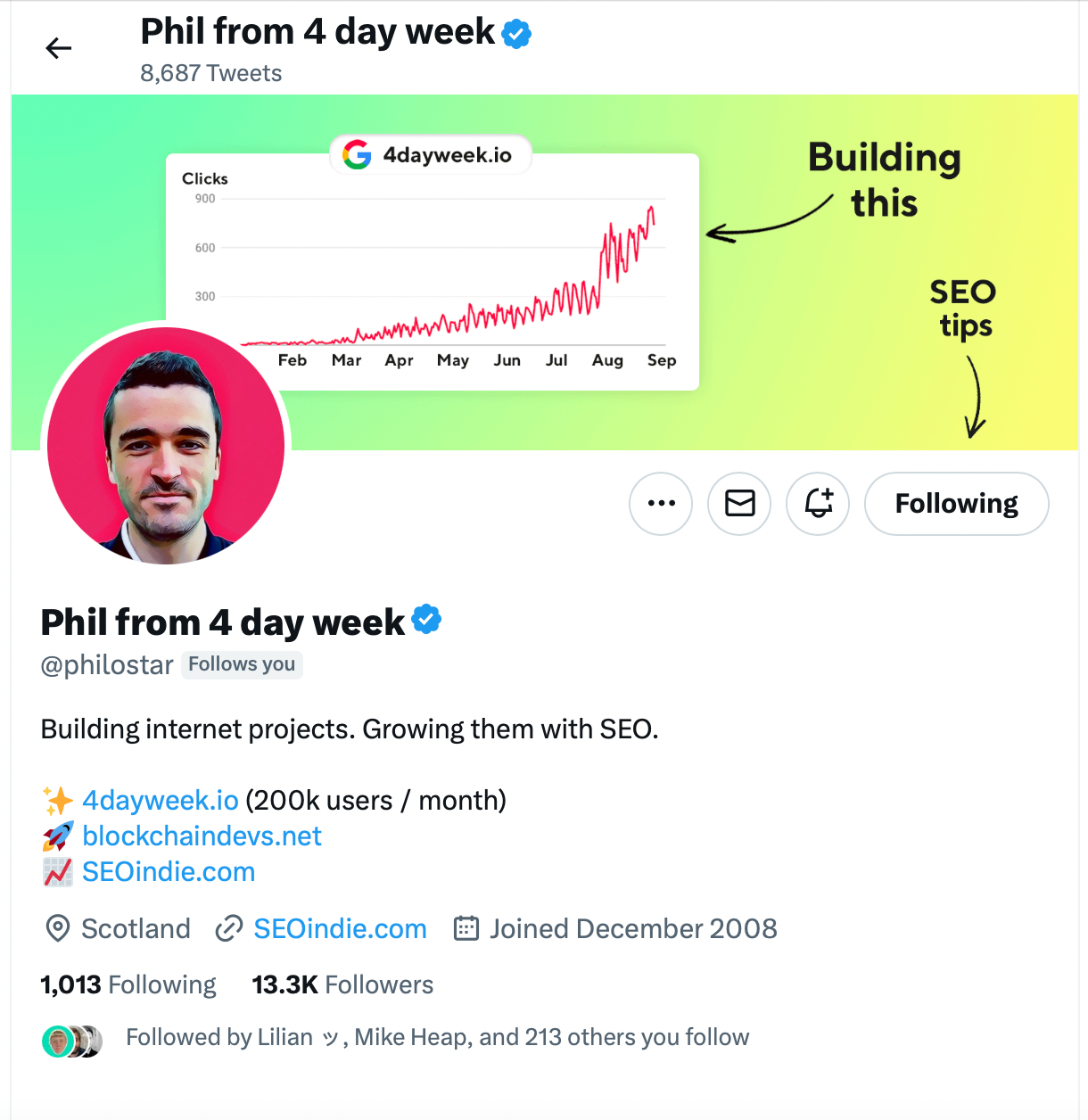 Danielle from LeaveMeAlone
Danielle is the co-founder of LeaveMeAlone, an email subscription service which respects your privacy by not scraping your inbox for data. Instead, you can buy credits to remove email subscriptions you no longer want. Danielle shares interesting updates about building LeaveMeAlone while living on a boat and sailing around the world with her partner James.
CH Daniel
CH Daniel runs several businesses along with his brother. Together they make $200k a year. At present they are working on Signhouse, a competitor to DocuSign.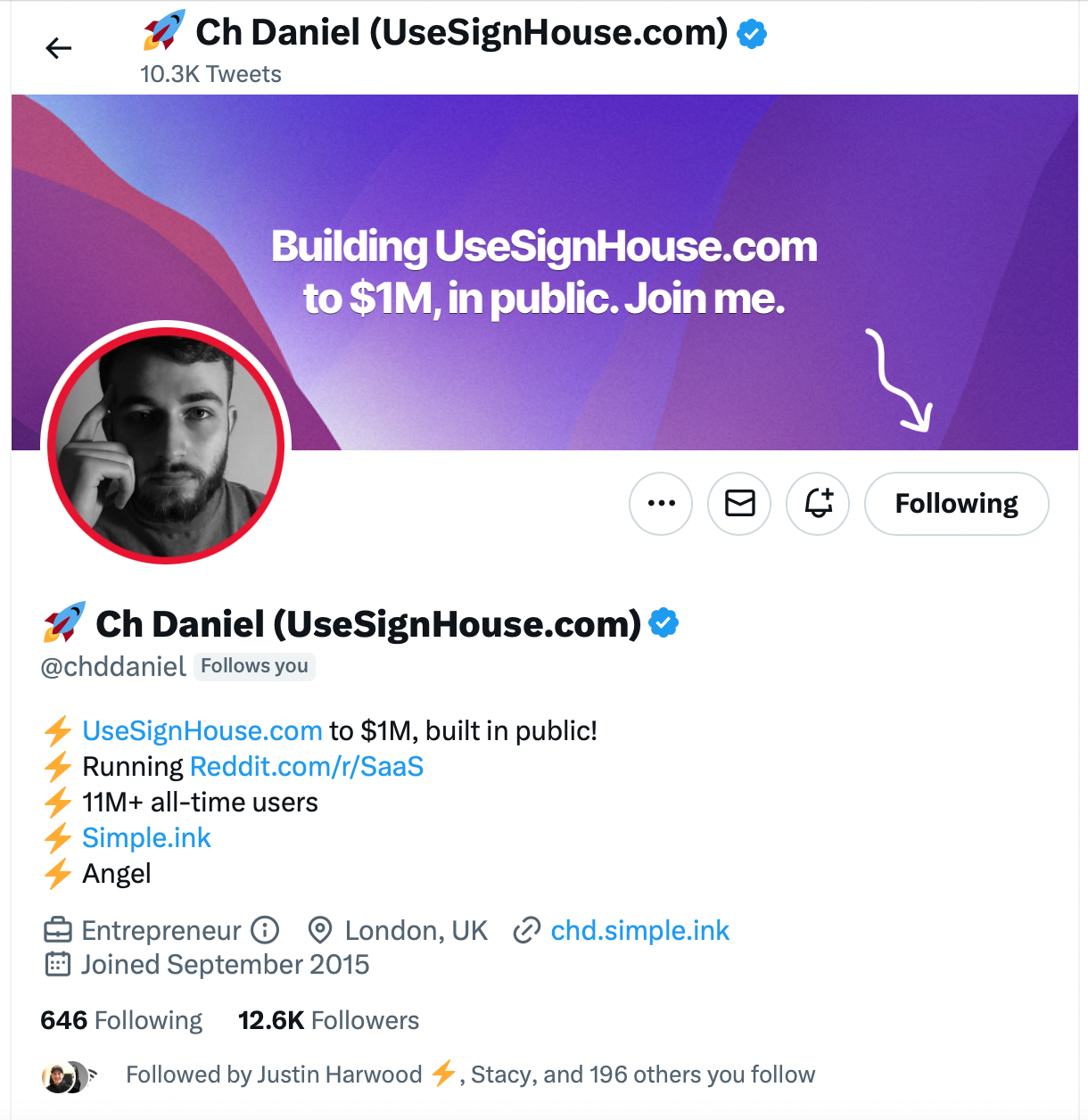 Amar Ghose
Amar is an American founder and digital nomad. He is the co-founder of ZenMaid, a niche SaaS for maid service owners. Amar's strengths lie primarily in marketing and strategy and you'll get lots of great tips on these topics from his Twitter. He is also an avid traveller and a big believer in running a fun, lifestyle business which allows him to travel a lot.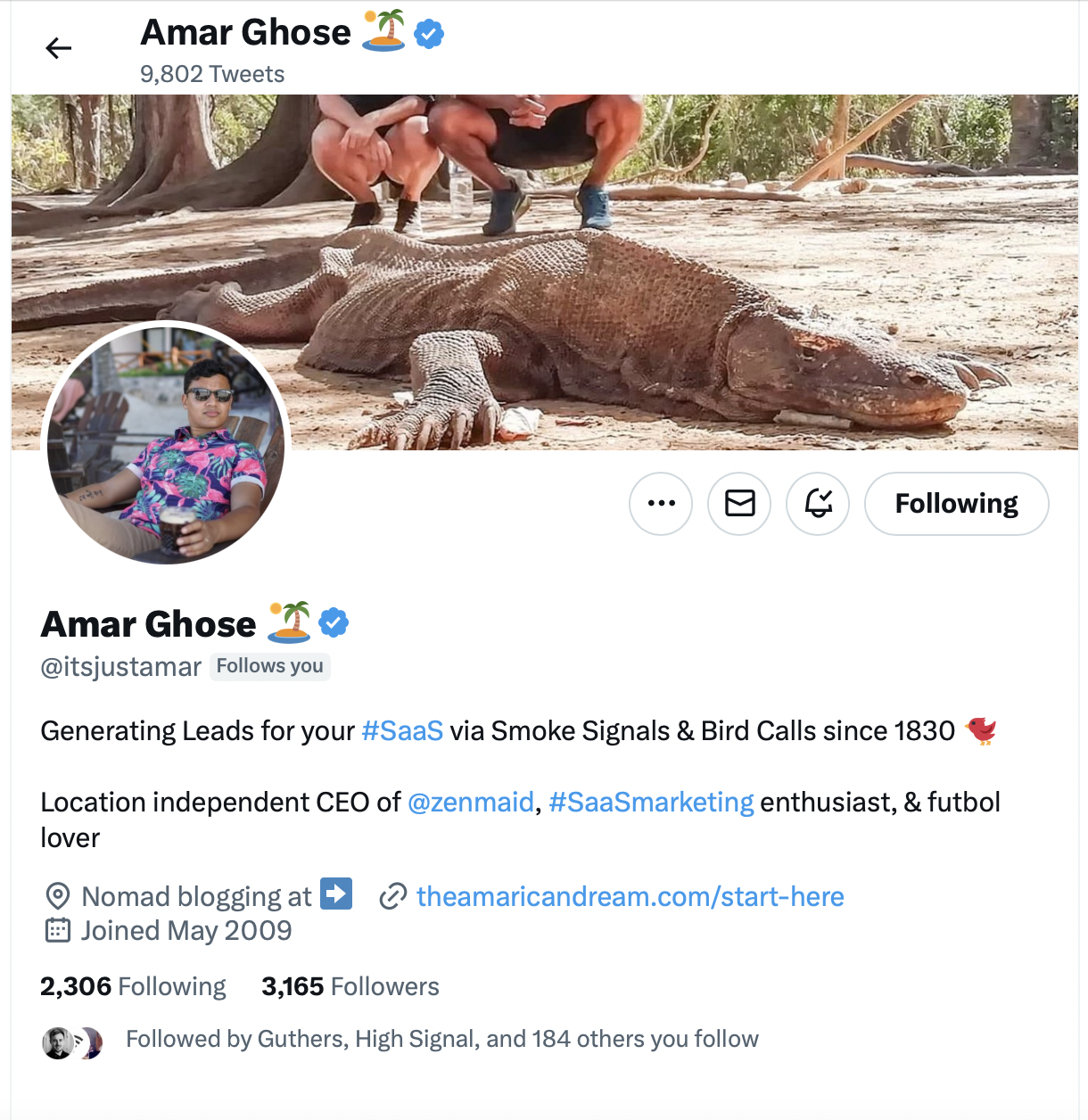 Grow your Twitter
If you want help with growing your Twitter, get in touch.
I doubled one client's following in 5 months and got another person a new coaching client within the first week.
I can help with
• writing/editing tweets for you
• remixing blog posts into material to tweet
• engaging with other founders
• providing social media strategy advice
• improving your Twitter bio and how your profile looks
Email for more info