You have enough time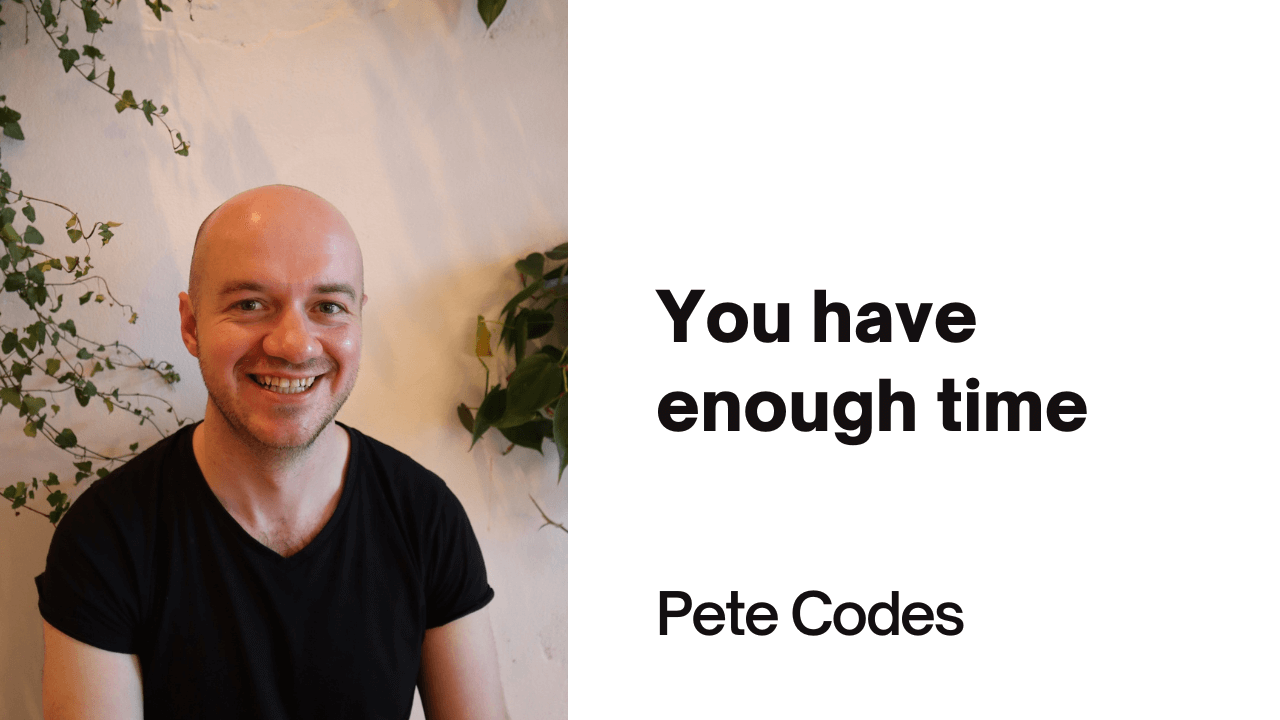 We often think life is short. In reality, there's a lot you can do if you think intentionally. I've just booked flights to Granada, Spain for this winter. It's a city I've always dreamt of living in since university and now I'm going for 7 weeks!
I visited Granada a long time ago when I was an Erasmus student, visiting a friend. I loved the narrow streets of the Albaicin, the beautiful Alhambra and the great vibes of the place. Free tapas with every drink didn't hurt either. In typical tourist fashion I was like "wow, I really want to live here!"
Giving up on the dream
And then after university when I couldn't get a job in 2008 I really should have gone to Granada but I was doing the responsible thing then of doing things "good for my CV" like applying for proper jobs and doing internships.
And several times during my 20s at different points I thought "I should go and live in Granada for a bit." I would look at how dirt cheap the rooms where (rooms go for €200-300/m) and fantasise about living there but I never quite managed to make the leap.
Well, I'm going now! True, it's not for as long as I would have liked as I only have 90 days out of every 180 days available to visit the EU now (thanks a lot, Brexit!). But it's great to be able to go somewhere I've wanted to go for a long time.
Remote work gives you power
Before remote work and working for myself, I had written off things like going to Granada. I figured I was too old and I had missed by chance (although I'm lucky to have travelled a lot anyway).
Now because I work for myself as a Twitter ghost writer and have several tech newsletters making money, I have my own schedule, my own working hours and I have total freedom about when and where I work. I should really celebrate this more as my lifestyle is fantastic!
I know someone who used to work two remote jobs at the same time - one was in US hours and the other in Europe so this way there wasn't much cross-over in working hours. They used one paycheque for living on and the other for savings. Check out remote job boards like WeWorkRemotely if you want a remote job.
We have enough time
Which gets me to the title of this article - we have enough time! If we choose our lifestyle very carefully and do things like remote work, and ideally entrepreneurship, then we can really live multiple lifetimes within one life. Personally, I think entrepreneurship is the best but if you don't want to do that, you can get a remote job with async working hours so you just work when you want to.
You don't have to just live in one city your whole life. You don't have to have one job your whole life. By choosing variety, you can also slow down time or at least your perception of it by re-wiring your brain with new experiences.
You don't have to do the same job your whole life. You can learn to code and make a massive career change like Aldhair who used to be a cleaner on cruise ships and now works remotely. Maybe in my 40s I'll go back to academia and become a lecturer, who knows. If you really spend a lot of time working out what sort of life you want, there's so much you can do.
Subscribe to the newsletter