Las Palmas - a digital nomad review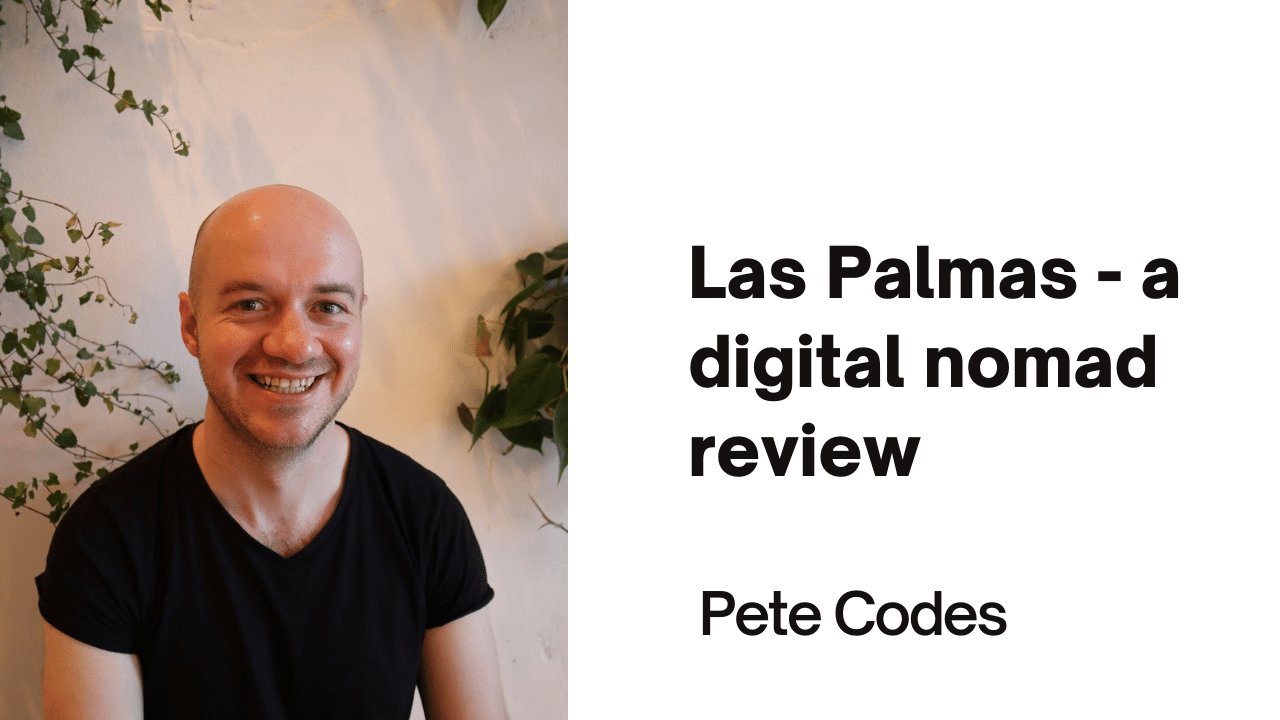 Here's my review of Las Palmas de Gran Canaria as a digital nomad. I've been in the Canary Islands in Spain for 2 weeks now and I'm having a fantastic time! I find myself walking around smiling a lot. The city puts me in a great mood.
While I'm here I'm working on my website No CS Degree for people getting into tech without a degree and my High Signal community for founders and startup newsletter
Where is Las Palmas?
Las Palmas is the biggest city and the capital of Gran Canaria, one of the islands that make up the Canaries along with Tenerife, La Palma, Fuerteventura and some smaller ones. The Canary Islands are Spanish and although I'm good at geography, they are actually way further south than I realised!
We're more or less level with the bottom of Morocco here, in the Atlantic Ocean. The Canaries are part of Spain but they definitely have their own vibe. The islands have an even more laid back feeling than the mainland does.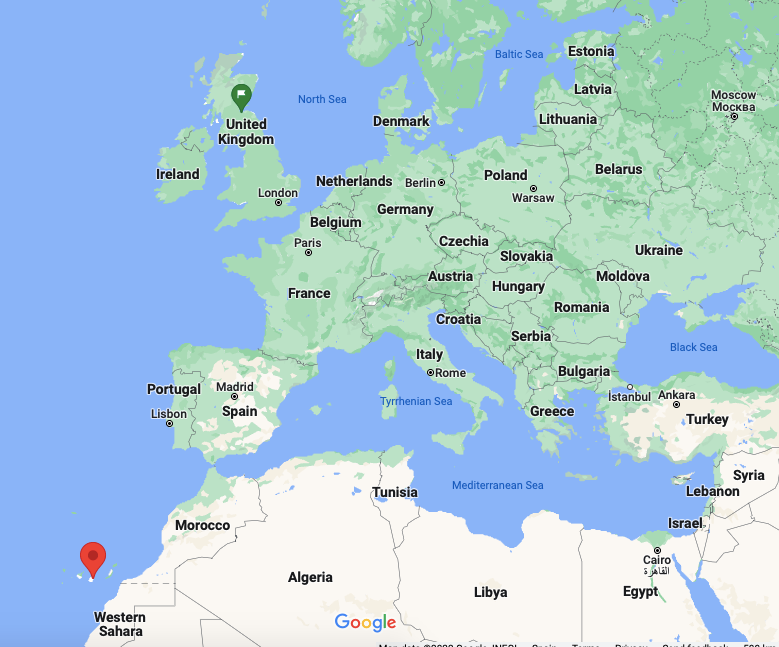 Why did I come to Las Palmas as a digital nomad?
I knew a couple of people on Twitter, Pauline and Jacob, who had spent a month or two in Las Palmas recently and loved it. There are also some other digital nomads I know who have stayed here in the past like High Signal member Karim. I knew as well my friend Alex West would be here. Another big pull was the online group, Live it up, Las Palmas! More on that later...
The weather here generally stays warm but not too hot all year round so that's perfect for me. I knew Spain already very well but I had never been to any of the islands so it was still a new experience for me. Also, I had the knowledge that I'm fluent in Spanish so I would be able to land and speak with locals on day one which is nice. I figured it would make it easier to meet people and in case there is some emergency or I get ill, it's good to know the language.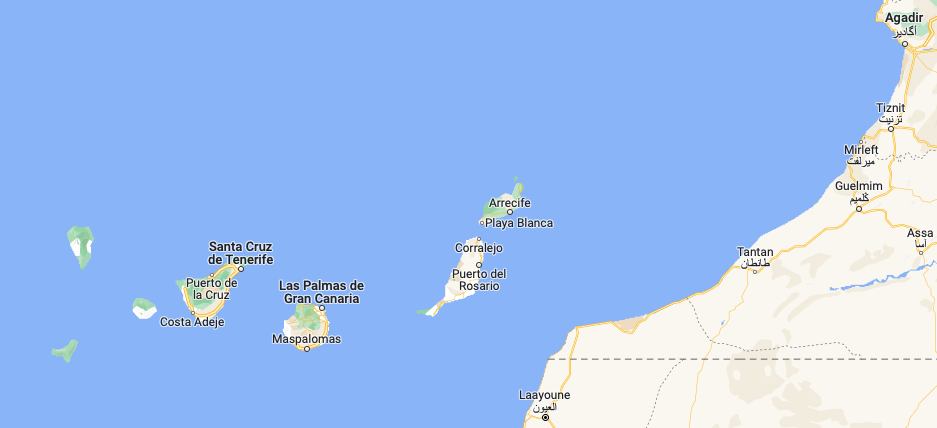 The beach in Las Palmas
At first I wasn't impressed by the pictures of the beach - how wrong I was! It's right in the city - you don't need to get a train out to the beach like in Lisbon. The main city beach Las Canteras is really long and has separate sections for surfers and for people swimming.
The beach is alive all day, with surfing, volleyball, paddle, snorkelling and other sports happening long into the night. You can also dive here. I've never been a beach person, but damn! This place is great. I've never really just laid back and floated in the sea before. It's a bit like meditation - giving up all control and going with the flow. It's a great experience.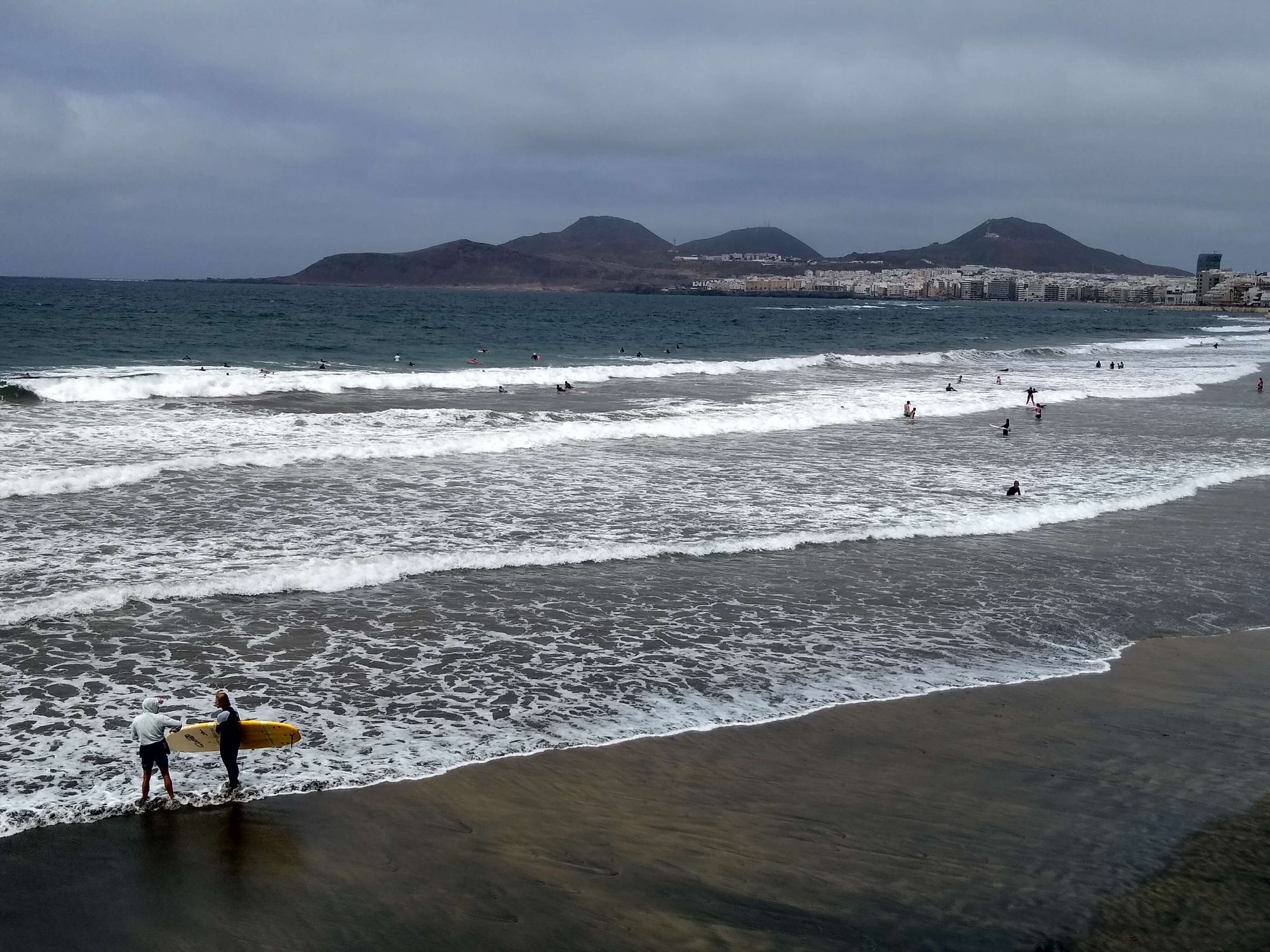 The UV light is often at the maximum end of the scale so you need to be really careful by using sun cream, covering up and seeking shade. I got badly burned on my first day here. It was so sore that lying on my back was extremely painful, as was taking showers.
I bought a big bottle of aloe vera and applied it liberally but it took over a week to get better.  I've since invested in a UV-protection surf shirt which means I don't have to worry about missing a spot on my back or further damaging the skin on my shoulders.
Despite the powerful UV light, there is actually a lot of cloud here. Which I guess catches people out and causes more sunburn! The mountains in the middle of the island trap the clouds that come from the north so they stop and stay over Las Palmas. This cloud is known locally as the belly of donkey, in Spanish "panza de burro". Apparently as soon as you travel further south the cloud clears. The south of the island has tourist resorts like Maspalomas, extremely popular with Brits and Germans. So there is more reliable sun there but it's not where digital nomads live.
Meeting other digital nomads in Las Palmas
There are pretty much social events every night here - it's a bit like Freshers Week at a British uni all over again (minus the crazy amounts of alcohol). A big credit to Nelly who organises the free Live it Up, Las Palmas community. It's a really awesome group and the life-blood of the nomad scene here.
I had observed earlier this year how active it was which contributed to my decision to come here. There are channels for intros, accommodation, free events, paid events, networking and out of town trips etc. Most of the meetups I've been to have been free.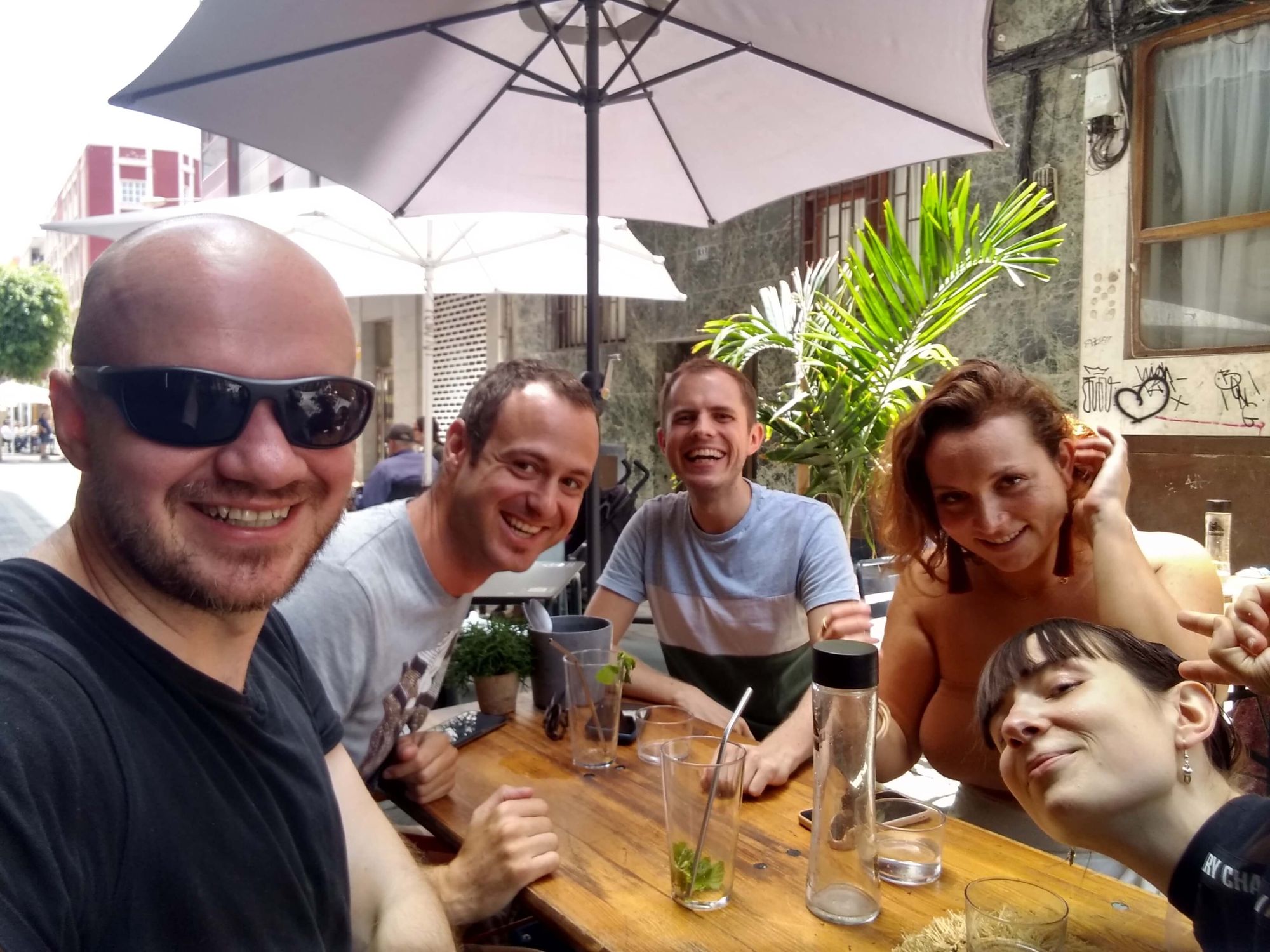 Today I went to a writers' meetup at a cafe where I talked to some copywriters and a novelist. It was a really nice vibe. Then a few hours later I went to a discussion meetup at another cafe with the theme being risk. We talked about the riskiest things we've done, whether men take more risks than women and different attitudes to risk depending on gender. There was a drawing meetup in the evening I could have gone to but I decided to have some down-time for myself and write this.
There is a weekly meetup at a pub, Bar San Remo, every Tuesday for the Live it up, Las Palmas group and I've met some cool nomads there from all over the world. The pub has lots of seating outside so just pull up a chair and get chatting!
There is another drinks party every Thursday at a rooftop bar of the Ibex Hotel which is really cool. There's also a weekly Bachata dance class which I've not had a chance to go to yet. So straight off the bat that's three nights a week where you can meet other people.
Hanging out with Alex West
A bonus to coming to Las Palmas was being able to meet IRL one of my High Signal community members and Twitter friends, Alex West. There is only so much you can know someone without meeting them in person. I hung out with Alex a bunch of times, co-working and he gave me some great cold email tips.
We recorded a video interview at his apartment on the last day here. He's starting a podcast where he talks with someone in every place he goes, which is a really cool idea. We had a very pleasant chat and it was cool to actually do an interview in -person.
It was also great to have some deep conversations about what we want from life and our businesses. On the last night he was here we went out for a group dinner and wound up talking on the beach with other nomads until 4:30am.
Working in Las Palmas as a Digital Nomad
I did a High Signal community Zoom from the hostel rooftop area. Apart from that, I didn't have any calls booked. I try to avoid them as much as possible. I get on fine working in cafes where coffees are generally €1.50. and even in the hostel. There are some days where it's harder to work when the sea is right there, tempting me to swim. But in general I've still been able to get work done here. I managed to launch the coding mentors section of No CS Degree from here, for example.
Prices for accommodation in Las Palmas
I paid about €17 per night in Tamarán, a hostel right by the beach. I figured I would stay a week in a hostel while I looked for a room in an apartment. I had such a good time in the hostel though I wasn't in a rush to leave! Apart from a few nights of snoring people in the room, I really enjoyed it.
I was listening to new music every day in the reception area and I was able to work on my laptop while chatting to European backpackers. There were a lot of friendly people and as I spent two weeks here I got to know them pretty well. I also did a fun afternoon of water colour painting on the rooftop with another hostel worker while a guest got a tattoo! I get tempted to travel full time after hanging out here. Great times!
(I was supposed to go to an Airbnb when I wrote this but I cancelled it after finding the listing was nowhere near the beach)
I've heard that rent prices go up a fair bit from October onwards as people in Northern Europe flee the cold and dark weather there. There is also less availability as more and more people arrive, of course. So if you come for winter, book ahead and expect to pay more. August is actually quiet in Las Palmas - European winter is when the place really gets busy!
Working out in Las Palmas
I was originally going to join a gym but here they require you to give your finger prints - hell no! I decided I would find some pull up bars - there are a few outside fitness stations including one I have been to near the surfing area of Las Canteras beach. It also offers an amazing view!
Aside from that, Las Palmas is totally flat so it's very walking-friendly. I see a lot of runners as well but unfortunately I don't have my good running trainers here and I get injuries if I don't use them. I will give running along the beach a try.
I've been swimming most days and I'm getting better at the Total Immersion technique that was popularised by Tim Ferriss. The water here feels safe and has a high rating for cleanliness. Also, there are lots of life guards. There is a reef which also makes you feel safer as you know you can't get swept out beyond that.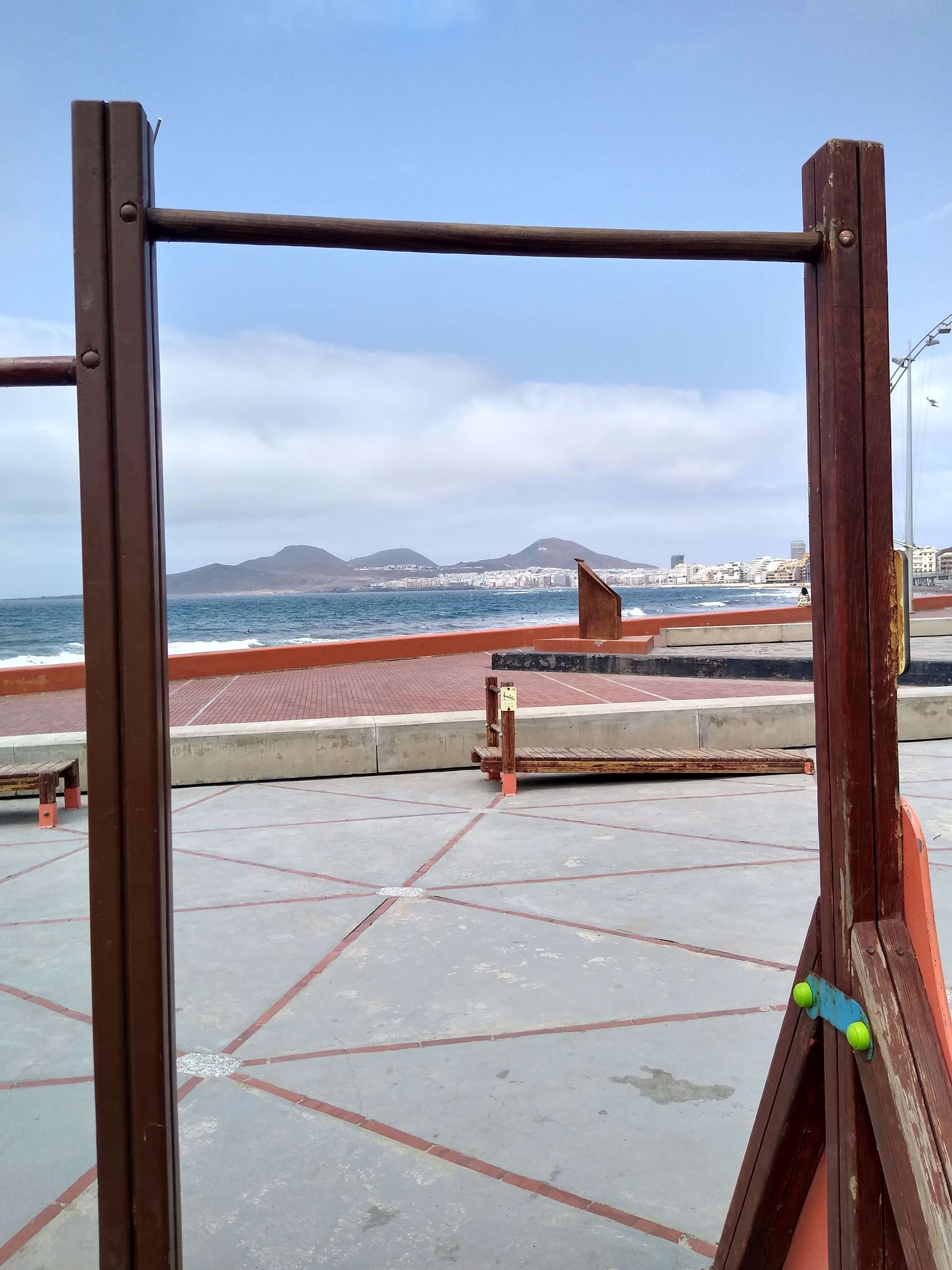 I also took a €30 surf lesson for 2 hours which was lots of fun! I managed to sort of stand up a couple of times towards the end and I'll definitely get more lessons before I leave.
I also had a couple of games of volleyball which I really enjoyed! I'm going to go to beach volleyball training when I go back to Edinburgh.
Speaking Spanish in the Canary Islands
Although most people here speak English, I love being able to arrive in a city and speak Spanish with locals. I studied Spanish at school and then at university and looking back, it was an excellent decision. Most people speak Spanish back to me unlike in some tourist places where people insist on replying in English for whatever reason.
It's nice trying out some Canarian Spanish like dropping the 's' in 'graçias'. Also, just like in Latin America, they don't use the 'th' in 'graçias'. I just listen to how the cashiers in the shops speak, and reply back the same way to them and to other people. Everyone always welcomes you in a shop which is a nice touch. I also guessed correctly the best way to ask someone at the beach to look after my things i.e. "puedes mirar mis cosas".
I did make a faux pas by ordering a water by asking for "una aguita". I got a really weird look and the waitress sarcastically repeated the order to her colleague so I knew I had said something stupid, haha! Saying "aguita" would be fine normally in Spain, as it means " a little water", but here "aguita con ___" is an expression meaning something like "that person/thing is crazy" .
The weather in Las Palmas in August
So far most days in Las Palmas in August have been about 22 to 27 degrees Celsius. On some days it creeps up nearer to 30 degrees and the beach gets packed but there is always some room. It is sort of humid but I've got used to that already. As the beach is right there I can always cool off on especially hot days. It helps that most nomads stay in Las Canteras, the area by the beach. All the meetups, bars and cafes are within a 5 to 10 minute walk from the coast.
Another thing about having warm weather is the city stays alive all day long. I walked out to a department store last night to buy clothes at 10pm! There was a salsa band entertaining people on the roof. On the walk home at 11pm there were families out with their young kids in play-parks - this would never happen in the UK! Spain is far more family-friendly.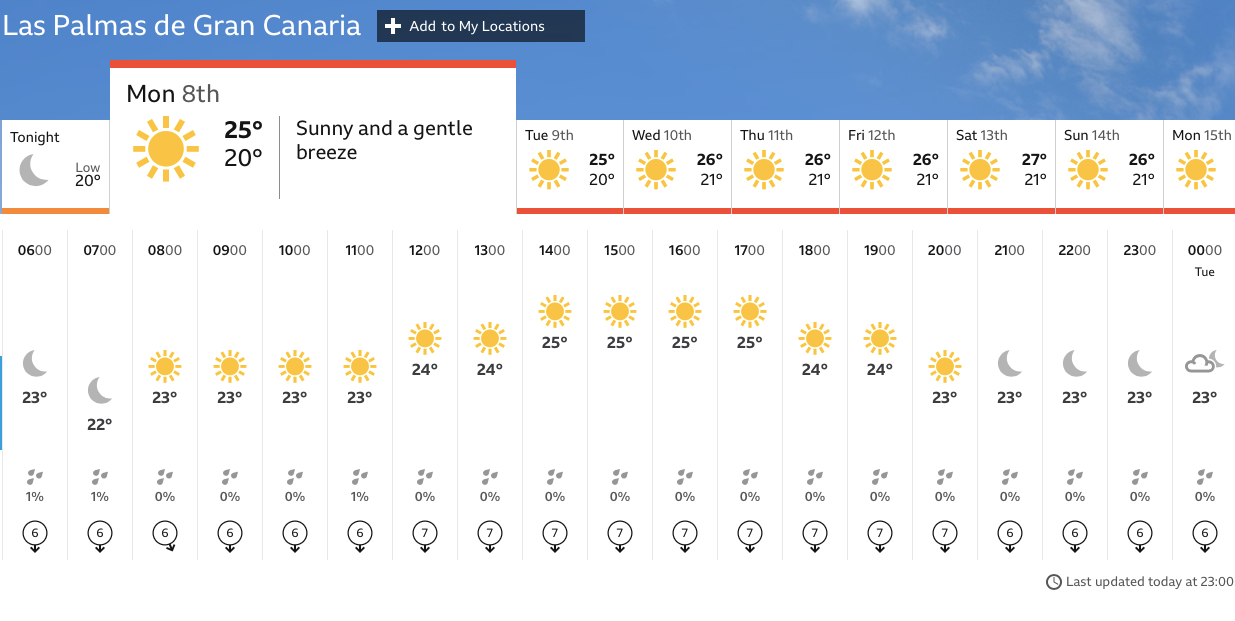 Moving to Las Palmas?
I've got to say if it wasn't for Brexit taking away my EU citizenship, I'd be tempted to move here. As it is, I can spend 6 months of the year in the EU. I could definitely come out here again in the winter when it's miserable in Northern Europe. Although in fairness, that's also the time when it's most busy, expensive and hard to find accommodation. It's definitely re-ignited my interest in travel and my love for Spain.
There is a sort of Golden Visa for Digital Nomads in Spain but it's not as easy as Portugal's one as far as I can see. (All) I need to do is make 500,000 Euros in investments in Spain and I can get a Golden Visa giving me residency. Another reason to work hard I guess!
Conclusion
I'd say Las Palmas should be a must-do for any digital nomad. There is a really active meetup scene here so it's incredibly easy to meet people provided you're willing to go to a group and make some effort with conversation. The free Live it up , Las Palmas group makes social life here super simple!
The beach is a real highlight here for me and I wasn't even a beach person before I came here. You can also surf here and there are lots of surf schools for beginners. I've yet to explore the rest of the Gran Canaria island but Maspalomas has desert dunes and the centre of the island is very hilly with pine trees. So there's a lot of variety on the island.
Everything seems affordable here, including the accommodation. Like most places in Southern Europe you can get a coffee here for 1 or 2 Euros. The wifi has seemed pretty good here except Starbucks, which is where a lot of people go as their first port of call.
So if you're looking for somewhere sunny, fun, exotic and not too expensive, Las Palmas could be the perfect digital nomad place for you!
p.s. if you like this, follow me on Twitter