Going on the Indie Lisbon trip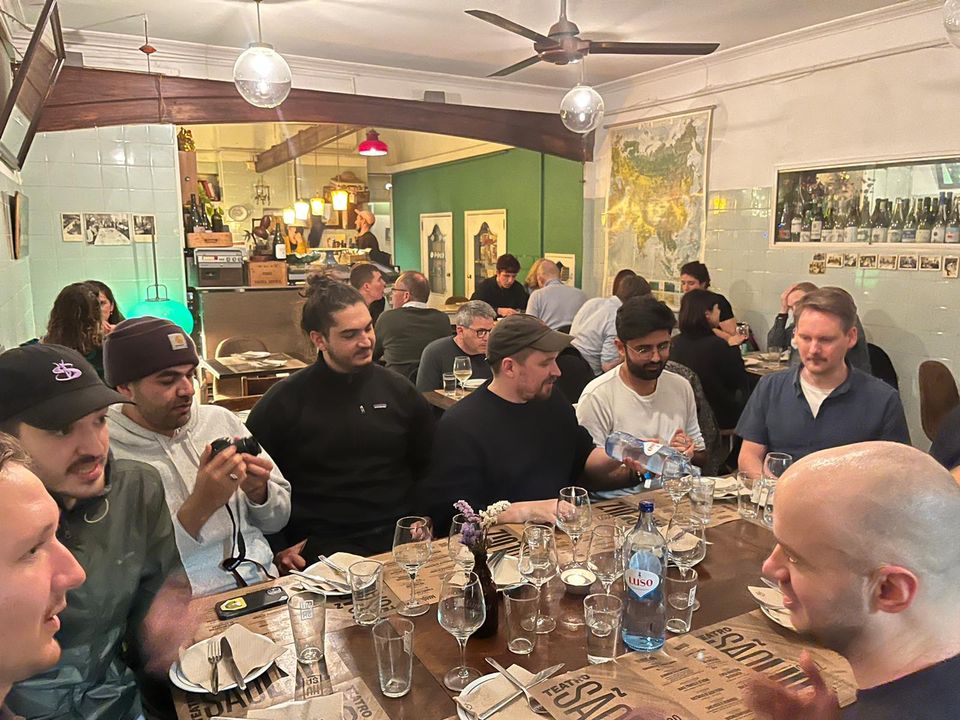 Last week I went out to Portugal to attend the Indie Beers meetup happening in Lisbon so this post is a mix of startup stuff as well as more of a travelogue at the end. I got a DM from Sabba, the co-founder and CEO of Veed, inviting me out on the Monday the 14th.
And after a few minutes of checking flights on Skyscanner, I bought tickets to go out to Lisbon on the Wednesday the 16th. I would be having my first holiday abroad in almost 2 years!
A clincher on my decision to go was the fact I had missed a ski trip with my brother and his friends when I was 20 on the grounds I couldn't really afford it. But I could have got a credit card, borrowed money or got a part-time job etc.
The ski trip was also to a music festival in Austria and although I could technically go to one in the future, I'm never going to have the same energy for clubbing as I had when I was 20 years old.
Also, my brother now has a family and one of his friends tragically died in a climbing accident a few years ago. So I had missed my chance for that holiday. Although I could rationalise that there will be other startup meetups, I was sure to learn from the past and not miss this trip even if it was going to take a chunk of money out of my bank account I hadn't planned for. Sometimes you have to say "screw it" and just enjoy your life.
Arriving in Lisbon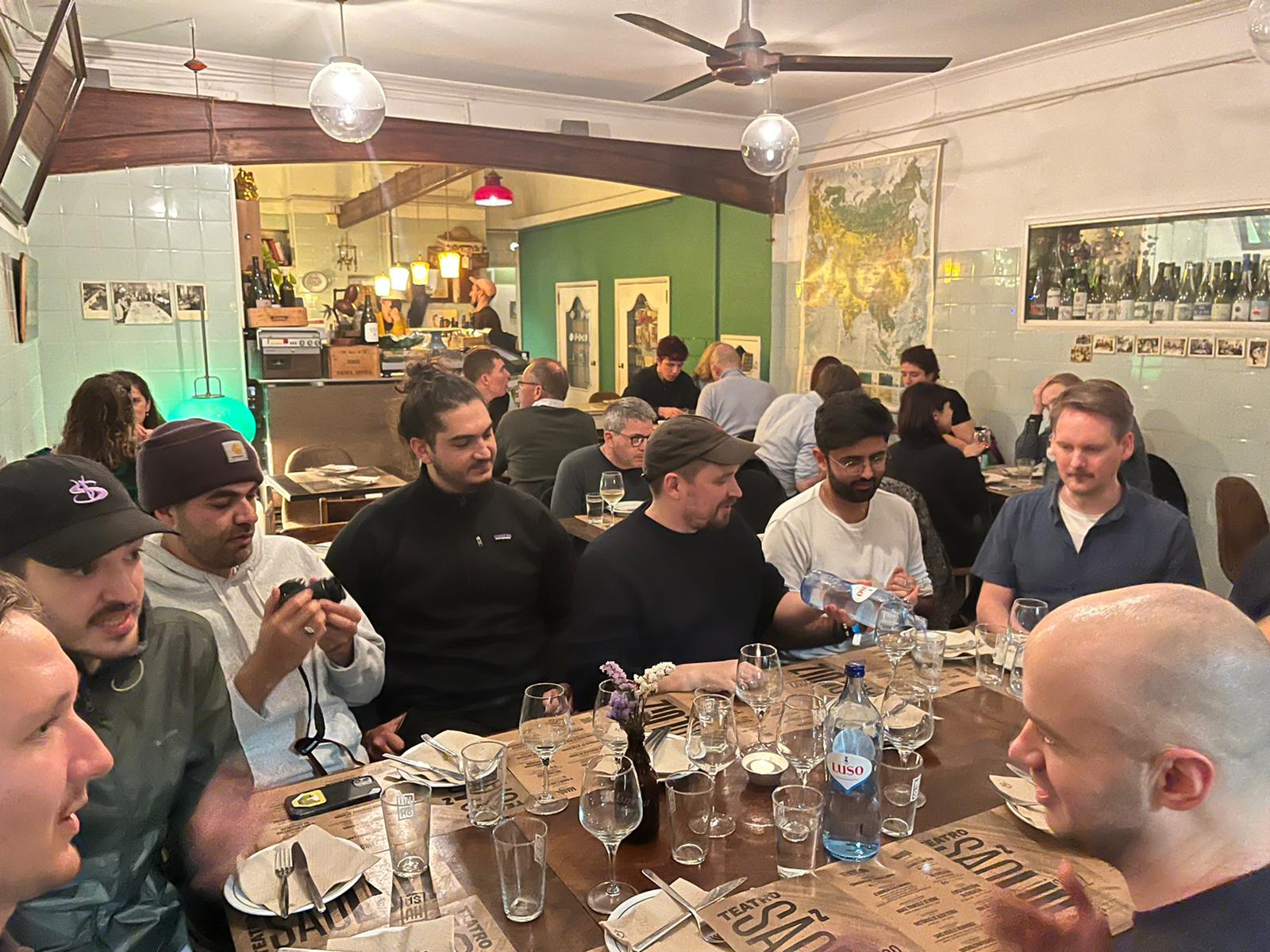 Two days after booking the flight, I was in Lisbon. I sat down at a table in a restaurant with 17 other entrepreneurs and briefly thought to myself:
"I have only spoken to one of these people on Zoom before and maybe three of them on Twitter. What if I don't get on with them IRL?"  
Luckily, this fear was completely unfounded and quickly disappeared! After a few minutes I was able to relax and I had an excellent first night talking startups and meeting loads of really interesting, friendly founders who are passionate about what they do. Everyone hit it off really well as we had so much in common and I later found out there were lots of people who were new to the group as well.
We went on to another couple of bars afterwards and the streets of Lisbon were busy for a Wednesday night. I sloped off early to my accommodation, looking forward to my first day of co-working.
Day 2 - working with Tim and Sabba
Charlie Ward from Indie Beers had booked an Airbnb studio for us to work from. There was a big table in the middle of a warehouse for us all to work around and there was a plethora of laptops, adapters and cables covering the surface.
I spent the morning getting to know more of the other indie hackers on the trip. It was great to just be in the same place as lots of other entrepreneurs. As I live in Edinburgh where I barely know any other indie hackers, this was a welcome change.
In the afternoon I caught a train to Sabba's Airbnb studio to work there. I had a nice espresso with his co-founder Tim, who is a really cool guy. Veed have just raised $35m after having been bootstrapped for about 3 years so it was great to ask him more about that and what the journey of creating Veed had been like so far. Speaking to someone who has co-created a 7 figure business was really inspiring!
After that, I got lots of help from Sabba about how to use the SEO tool Ahrefs and how he would structure a blog post. I was so full of energy that I knocked out two blog posts in a couple of hours! One of the posts on Capital One Software Engineer salaries got 5th place on Google two days later and the other one on Tesla Software Engineer salaries reached 10th place after a week.
It's so amazing to be able to turbo-charge your progress by getting intense training from an experienced person. I suppose it's like if you learn guitar on your own and then you get a 3 hour lesson from a pro - you're going to improve at such a fast rate!
So I really appreciate Sabba's help. Given I've spent most of my entrepreneurial life working on my own in my apartment, it was also really energising just to be around him and Tim that afternoon.
After work was done we walked down the coast to the Time Out food court and met up with the others. There was lots of great food on offer but I was glad I went for something local and had some cod.
The Indie Beers meetup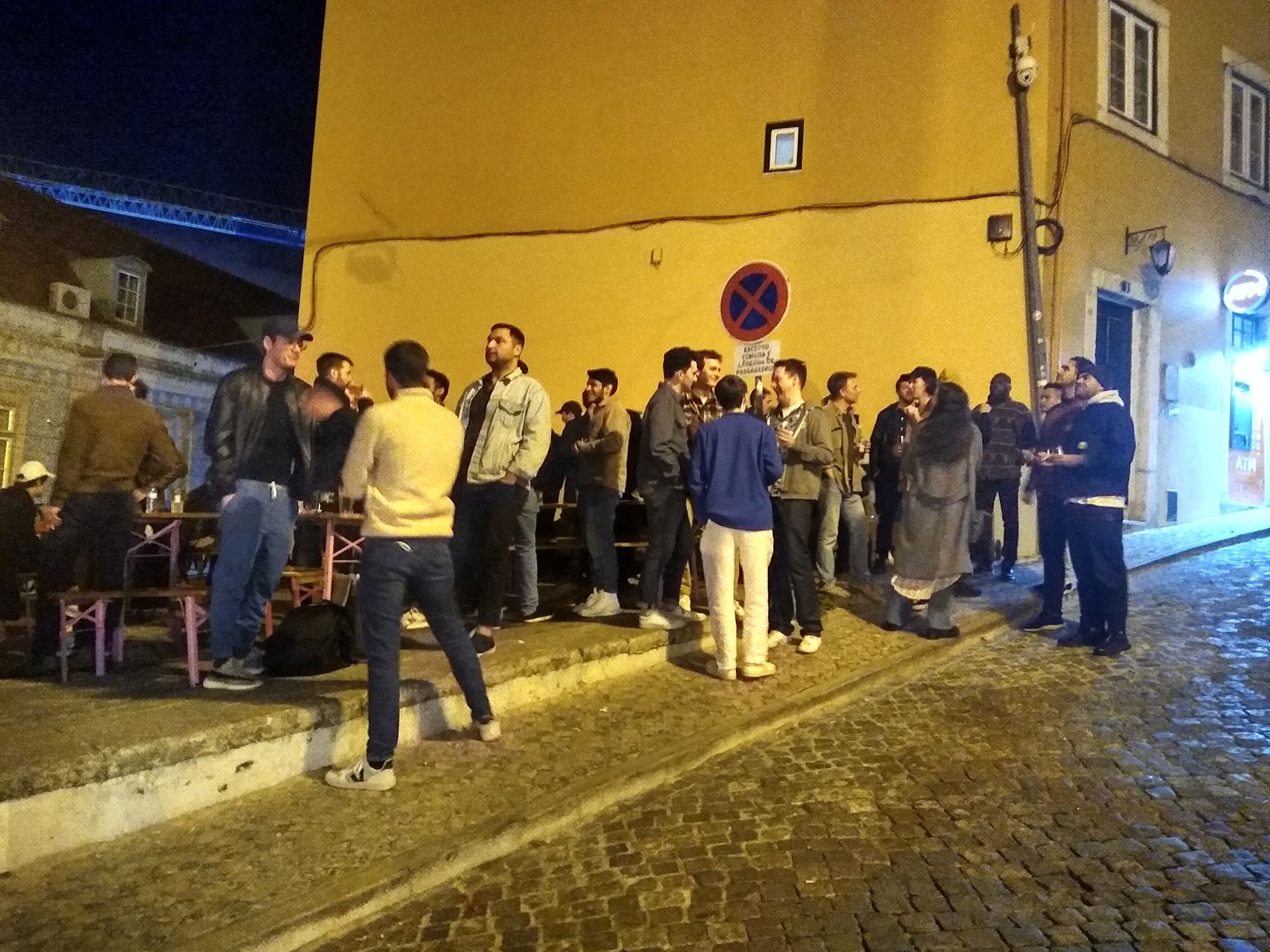 Firstly, hats off to Charlie Ward for organising the meetup ( and the whole holiday/ nights out etc!) I think about 30 or 40 people showed up over the course of the night and it was clear that Lisbon is popular with digital nomads. There is a popular visa for Portugal digital nomads so when I mentioned I was heading there, several people said they were planning to be there soon as well.
We met at a bar and stood outside on the street chatting about startups for hours. It was crazy hearing some revenue numbers from some founders. (Not sure if I should share so I won't). Plus, hearing how people like Che had learned coding just a few years ago and was already working as a Backend Engineer for a fintech aged 18 was really cool.
Obviously, I do listen to podcasts and read blogs but it's really not the same as meeting people in person and getting to know them properly. The meetup was great fun and I probably met more founders that night than I have ever met in real life, altogether.
Day 3
We had a fun day of getting (some) work done while chatting about music and the night before. Unlike the rest of the people on the trip, I'm not from London so I also learned the meaning of some slang I was unsure off and learned more about the music scene there. Drill is bleak!
We also got some coffees from the climbing wall cafe a few doors down from the Airbnb. The coffees in Lisbon cost €1.50 and are great! It's been hard coming back to Edinburgh and paying almost 3 times as much.
In the evening we got a good meal at a fancy vegan place which was followed by pastel de nata, the Portuguese tarts that everyone raves about. I am not a big fan of custard but I thought I better try one and it turned out to be delicious! Mike ended up taking 14 home with him.
Day 4 - 7 - tourism time
That's the co-working portion of the trip over with so I spent the rest of the time actually sightseeing and doing touristy stuff. I had a fun walk around town with Dave, who I knew from Twitter already.
It was the first day of proper sunshine and the temperature was probably about 18 degrees celsius. We had a great coffee sitting outside which isn't to be taken for granted when you live in Scotland!
We went to the Park Bar which is this cool venue on the top of a car park. There are views over to Lisbon's bridge which is basically a copy of the Golden Gate bridge.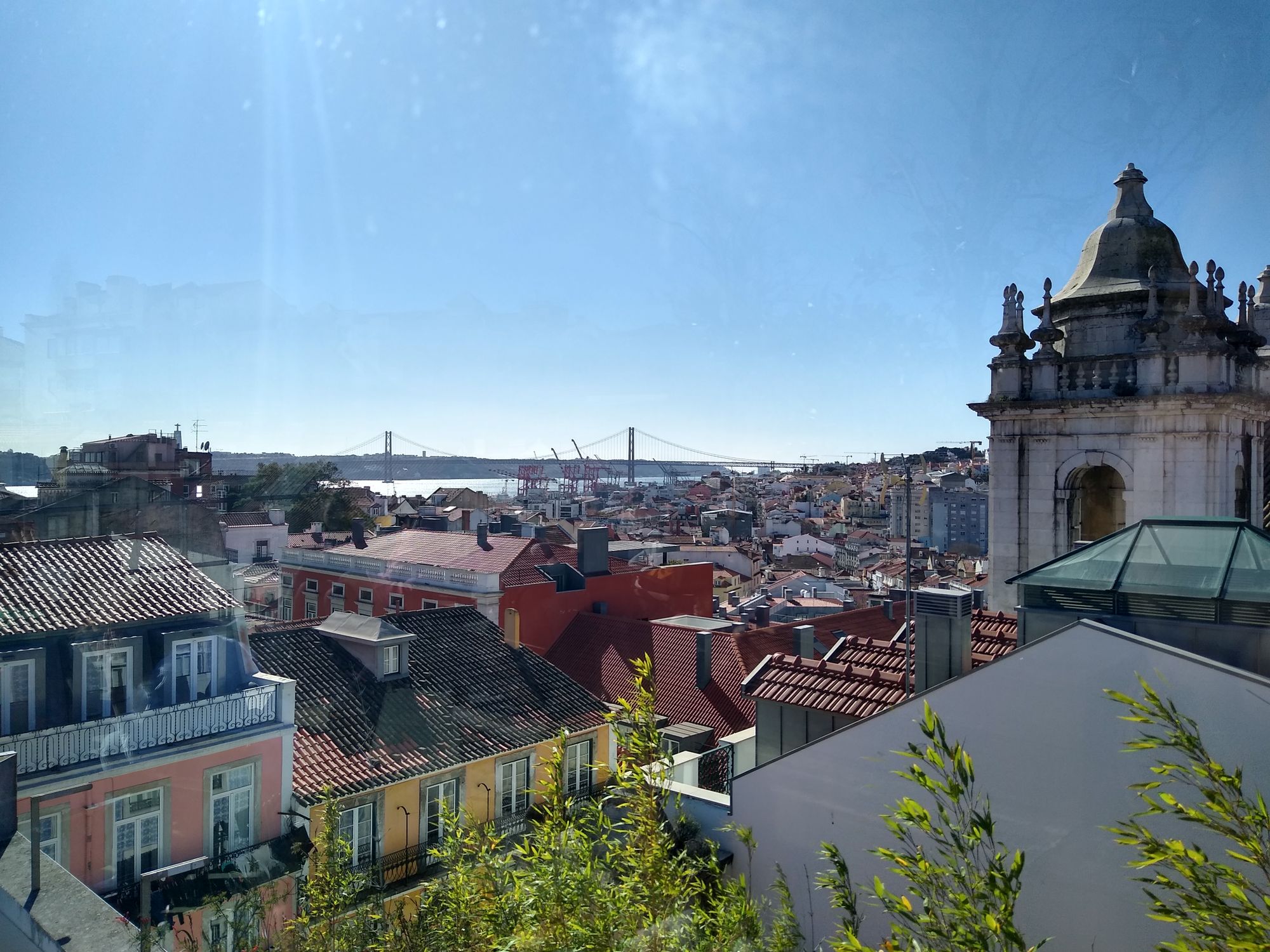 At this point I was pretty exhausted from several nights of staying out late (well, late by my middle-aged standards) so I had a chilled one and stayed in that evening.
I had a last lunch with the guys on the Sunday afternoon and it was a good laugh hanging out one last night before most people got their flights back to London. I was really glad I was able to stay a few extra days though.
I was also about to meet up with an American developer Tyler who I had met during my digital nomad trip to Bankso, Bulgaria in 2018. It was great to catch up with him and get some good coffee at Worth a Shot.
Visiting Sintra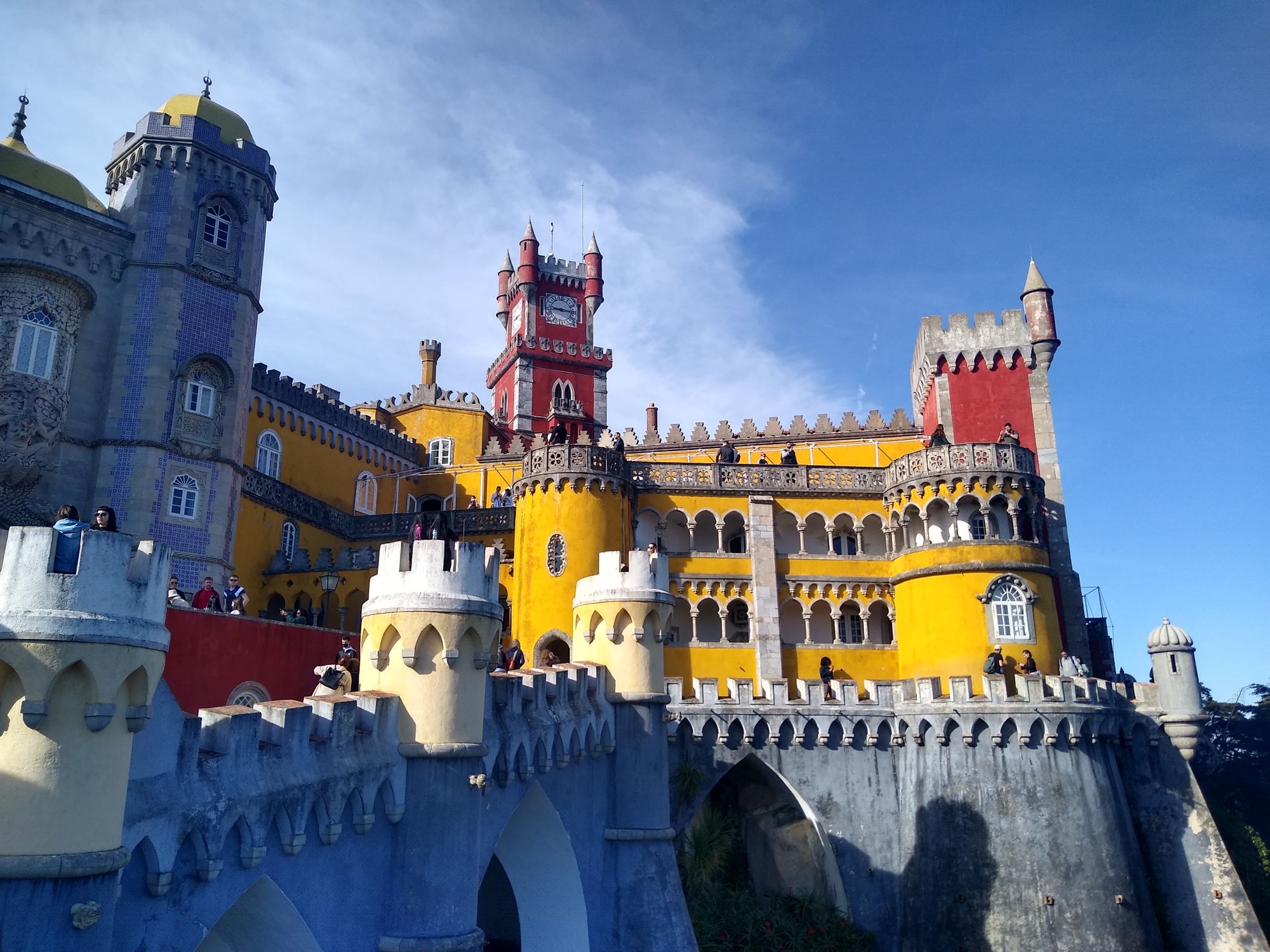 On the Monday I visited the Sintra palace, an hour outside of Lisbon. I was very glad I took the bus up the hill as the walk would have taken several hours and it was starting to get warmer by this time. I saw a few miserable faces trudging up the long, winding mountain road as the buses flew by them.
Sintra was by far the most expensive part of the trip. It is after all a tourist attraction and not for locals so I just resigned myself that everything was going to be pricey that day. Given all the meals and coffees I'd had the past few days, it all balanced out.
Sintra palace was beautiful and well worth a visit! There were, however, a lot of touristy and pushy tourists at that. I'm aware that it's a little like driving a car and complaining about traffic as I was a tourist there as well. But there was just that ugly side of tourism of everyone pointing their cameras, taking a snap and then moving on instead of appreciating the building.
There was a lot of posing, and people were all getting in the way of each other's photos etc. I guess as well it was a bit of a shock to the systems as I've not been around lots of people in a confined space like a castle for a long time.
The colours of the palace are really beautiful though and the views over the surrounding countryside were amazing. I could definitely imagine feeling pretty bad-ass if this was your fortress and you were looking out on your enemies below. So it's certainly worth visiting. In the evening I met up with Mike and had a fun dinner with him. We talked for ages about startups, the pros and cons of crypto and swapped Naval quotes.
Cascais and Estoril
My last day was spent going out along the coast to two towns, Cascais and Estoril. Both are very rich places and there is a clear old-money vibe. I learned that this is basically the Monte Carlo of Portugal so I'm not sure what they thought of me walking around with a beach towel draped over my shoulder.
I went to Cascais first and as it was now about 25 degrees celsius I had to pay an ungodly amount of money for 50 ml of suncream lotion. I went to the beach and steeled myself for a swim. I figured if I could wade into the water in Edinburgh in January, I could definitely swim in Portugal in February.
The water was cold but not awfully cold so after wading out a little I started swimming for real and got my head under the water. I swam up and down the beach for about 5 minutes and it was awesome lying in the sea on a sunny day looking at the coast and enjoying being in the moment.
After some time on the beach I got the train back one stop to Estoril. This was another old money town and it's been the home to lots of kings and dictators in exile over the years. All the houses were massive and had big security gates etc.
I went down to the beach in Estoril and watched people surfing. There were some really big waves and all I can say is hat off to anyone who surfs! You need a lot of courage to do that. I saw these guys getting hammered by the waves and surf boards going flying up in the air as they got wiped out again and again.
Portugal weather in February
The weather ranged from 15 to 25 degress celsius during the day. I suspect at night it dropped to around 10 degrees or a little lower. You definitely need a jacket if you're visiting and although I was lucky with a couple of really warm days, I think that's quite unusual for February.
Conclusion
I am SO glad I took this trip! It's definitely opened my eyes to the benefits of meeting entrepreneurs in person and I can see why so many founders move to places like SF, Bali etc where there is an ecosystem ready to support them.
It's really lonely being an entrepreneur in Edinburgh where I barely know anyone else doing the same thing as me. That's why I made an online community community for entrepreneurs, High Signal, so I can jump on calls and hang out with founders twice a week on Zoom. I'm definitely planning to visit the guys in London and go to the monthly Indie Beers meetup they have there.
I expect as well I'll do a lot more travelling in 2022 now the world is opening up again. It would be great to visit more founders in other parts of the world. It's just so much more energising being around like-minded people. Most of society doesn't really get what it's like to run a business, especially one without any funding.
I'm also further motivated to keep at entrepreneurship due to this trip. Not only did I meet really inspiring founders but it was also a reminder that being my own boss means I can realy design my own life.
I would say in most jobs you can't drop everything and tell your boss you're going to be going abroad and having a holiday at two days notice. So I'm definitely a lot happier to be an entrepreneur than before I left. I plan to stay in Edinburgh and have that as a base but make regular trips to London and abroad to take advantage of the fact I can travel a lot.
Thanks again to Charlie for organising and all the Indie Beers guys from London who made the trip so much fun!
p.s. I did some house sitting in 2019/20 where I looked after a cat and got 3 weeks accommodation in Berlin for next to nothing. It's worth reading my account of that here.