Granada, Spain - digital nomad review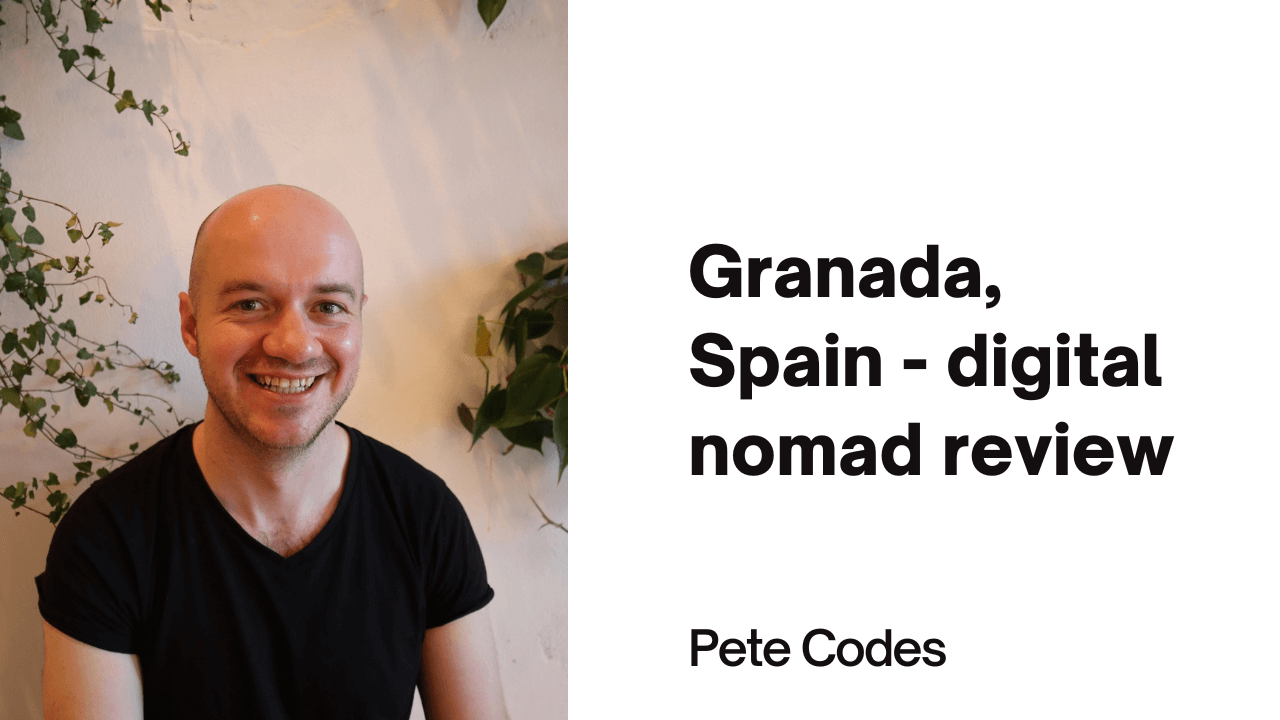 Here's my review of Granada in Spain as a digital nomad location.  I have quite mixed feelings about this place. I would say if you are an Erasmus exchange student or an EU citizen who can stay here permanently, it's a cool place. It's also a great place for a vacation!
But for me, it didn't work out for a place to work as a digital nomad. This is for a number of reasons including finding it hard to meet other nomads, get long-term accommodation, poor wifi coverage in cafes and a lack of things to do.
Things to do in Granada
The Alhambra Palace is the main draw for tourists. You absolutely need to see it. If not, it's like going to Peru and not going to Machu Pichu. You also absolutely need to book in advance, no matter the time of year. I was in Granada in November and they were still turning people away at the gate because they had no tickets left. There was a huge queue for the palace section and this was in November. I'd say easily an hour so bring snacks and water!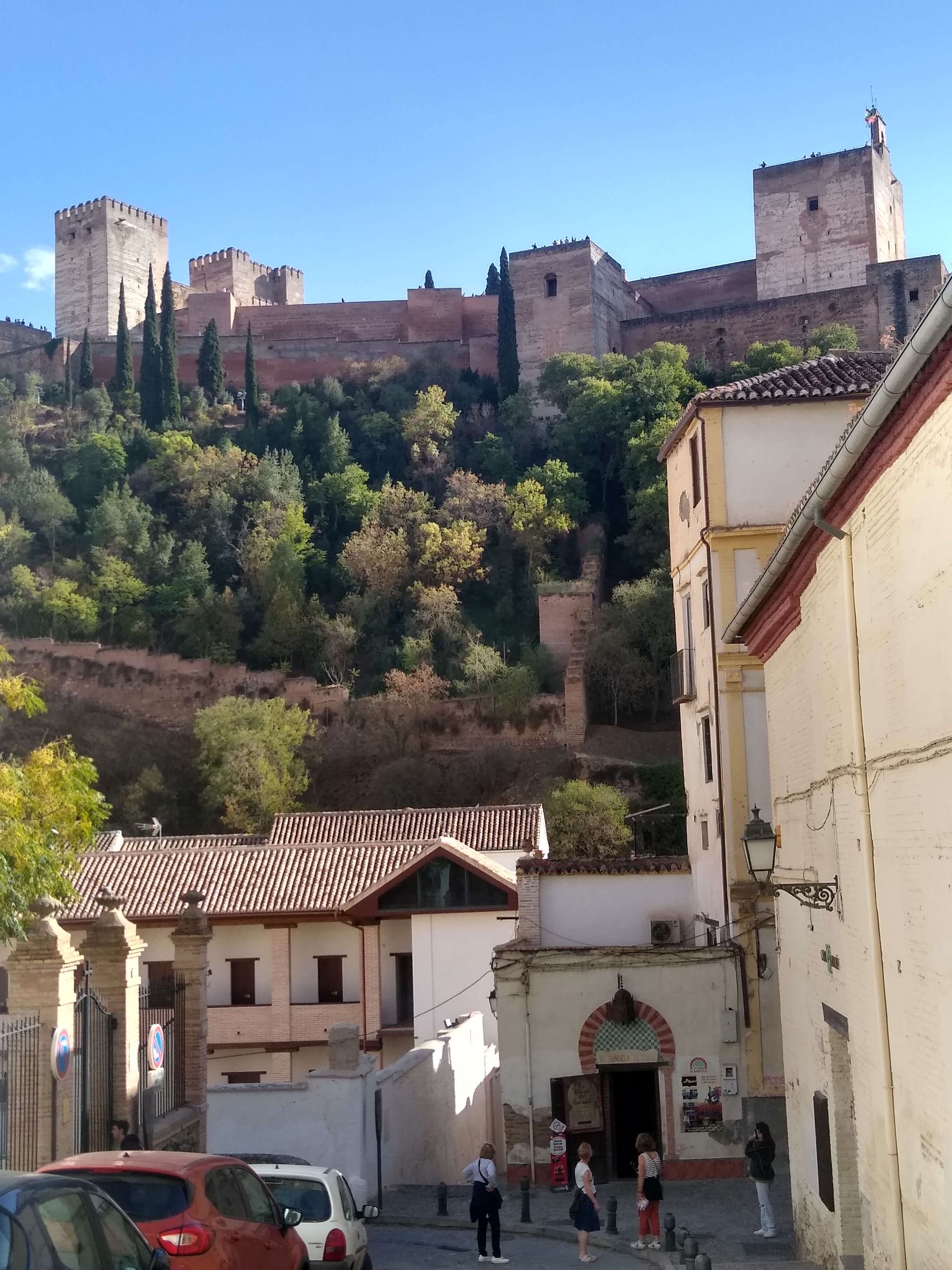 There are lots of tapas bars to explore and in Granada they give you a little snack for free. The quality of this can vary from a few crisps to an actual bit of tapas. But after a week I was pretty bored. I'm sure it would be more fun as a student and if you knew lots of people here.  
It's hard to meet people in Granada
Unlike Las Palmas, which I visited in the summer, there wasn't an easy-to-find community of digital nomads here. I saw a few other people working in cafes on laptops from the UK or the States but I couldn't see any community events for meeting nomads.
I went to a language exchange advertised by a Facebook group billed as a Spanish-English meetup. It was just me, the Spanish barmaid, an American and a German. I did actually meet up with my digital nomad friend Tyler who I met in Bansko in 2018! That was fun. But apart from that, I didn't meet any other nomads.
The locals are very friendly but realistically, I don't think most people are going to make friends with locals if you are only visiting for a few weeks or months. From my past experience of living in Spain, Spanish people are very friendly/polite if you  talk to them in a cafe but it's harder to become actual friends with them as their social circles are very tight.
A long time ago I visited a friend who was in Granada for Erasmus - I'm sure it's a great place as a student! But I think if you're not a student, it's going to be hard to meet other people here as a foreigner. So unless you are the best person you know at making friends, I would say Granada is not a good base for digital nomads.
Luckily, I have my Indie Friends group for founders to do weekly calls with! I actually did a Zoom call from a city centre square so thanks to my friends with putting up with the noisy background LOL
Granada is not a digital nomad hub
Most nomads want to avoid being lonely and so they go with the herd. So a handful of places like Chiang Mai, Bali, Lisbon, Las Palmas and Medellin are extremely popular and full of nomads. Each region seems to have a winner-takes-all situation.
Trying to nomad in a non-nomad hub is very hard in my experience. Way back in 2018 I tried to live in a few Romanian cities and it was a total failure. I chose to move to the nearest nomad hub, Bansko in Bulgaria, and had a great time there. Trying to be a digital nomad in a city without other nomads is really doing it on hard mode.
Most good cafes don't have wifi
I found the coffee prices really cheap in Granada! But after a few days I realised that most of the places served coffee that was weaker in the UK. I found myself buying 3 coffees a day instead of my very regular 2 coffees in the UK. I was also surprised that a lot of the specialist cafes with a hipster vibe didn't have wifi. In the UK almost every cafe has wifi.
The best and worse places for coffee in Granada
Atypica - average coffee. Wifi is fine. Cool hipster decor and nice tall windows for people watching. Lots of tables suitable for laptop working and they didn't mind me staying for a couple of hours. They have a lot of nice croissants and cakes as well.
Baraka - really bad coffee, wifi didn't work. Not sure why people recommend this place. It is 50 cents cheaper so if you don't care about the taste, this could be a place to work for a while with a hotspot. I got served a weird sandwich but they gave me a free orange juice for some reason so at least the staff are nice.
La Finca - great coffee, bad wifi. The staff are very friendly. Cool interior. You can't get hotspot connection in the back of the cafe. So I'd say only good for work like coding where you don't need an internet connection.
Despierto - nice staff and baked goods. Everyone sits on the counter so it's pretty intimate. The coffee was good but again, no wifi.
Sur Coffee Corner - the best coffee I had in Granada! Sadly it's takeaway only.
La Cueva De 1900 - this is more of a a traditional Spanish cafe that I ran into on a rainy day after I spied two people working on laptops. They had free wifi and I stayed working there happily enough. The coffee wasn't great but it served me well as a place to work. It's in the centre of town and on the way to the Alhambra.
Starbucks - not my first choice but there is a lot of space in the Starbucks on Gran Via, especially upstairs. Predictably, this is where a lot of American students go. There is wifi but no sockets for laptops.
Best and worst hostels in Granada
My first few days were in Oasis Backpackers in the Albaicin. It's found in a rabbit-warren of streets and I can anticipate some people, especially women, not being comfortable walking through these alleys late at night. Apart from, my stay was fine and the staff were very friendly. I actually met a developer in my dorm and he was coding at the desk there. I did meet a German backpacker in the lobby and we hung out so that was good fun. As hostels go, it was fine.
My second stay was most unfortunate - it was just the only available hostel for those nights. I'm not exaggerating to say it felt like a prison. The room with four beds felt very small - one guest remarked the bathroom was bigger than the bedroom! The wifi worked which was a saving grace. There was a kitchen but there was no light and so no-one hung out there. Not a good vibe. Also, the owner lives next door so there's no-one to welcome you when you arrive or give you towels etc.
Finally, I found a good hostel! The Toc hostel is part of a chain of up-market hostels which have dorm rooms but otherwise look and feel like a hotel. There is a billiard table, a lobby where you can work, free wifi and a proper hotel-like reception. The beds are also bunks but look and feel very modern - the beds are made from wood so you aren't on an old school spring bed.
This is definitely the best place to stay in Granada on a budget. Despite the inviting billiards table, I didn't meet any other guests. It's a strange mix of hotel and hostel, in that sense. It seems to have the increased comfort of a hotel but lacking the socialising of a hostel. Although I was there in November so perhaps it would be more sociable in summer.  
Conclusion on being a digital nomad in Granada
Not enough things to do, the lack of reliable wifi for writing my High Signal newsletter for founders and the challenge in meeting other nomads means I can't recommend Granada to remote workers. I think if you are in Spain it's definitely worth visiting for a few days. The Alhambra and the Albaicin area are truly beautiful! It's a cheap city with most coffees costing €2 tops (about $2).  But I wouldn't recommend people stay here for more than a few days.
(I went to Granada in November 2022 and left after a couple of weeks instead of staying until Christmas as originally planned. I wrote this at the time but wasn't sure about publishing at it then.)
Get my bootstrapper updates